This kit represents a Lockheed F-80 A Shooting Star, of the 61st Fighter Squadron, USAF, Selfridge Field, Michigan, 1948. It was built straight from the box. Nothing added or subtracted. The paint is Revell. Really fun to build. I got some history on the the 61st: In 1944, the 61º Fighter Squadron was recognized as the first fighter squadron in the European theater to score over 100 victories.

In 1947, the following groups got the Shooting Star--the 4th Group (334th, 335th, 336th Squadrons) and 56th Group (61st, 62nd, and 63rd Squadrons) based in the USA, the 36th Fighter Bomber Group (22nd, 23rd, and 53rd Squadrons) based in Germany, and the 51st Interceptor Group (16th, 25th, and 26th Squadrons) based in Japan.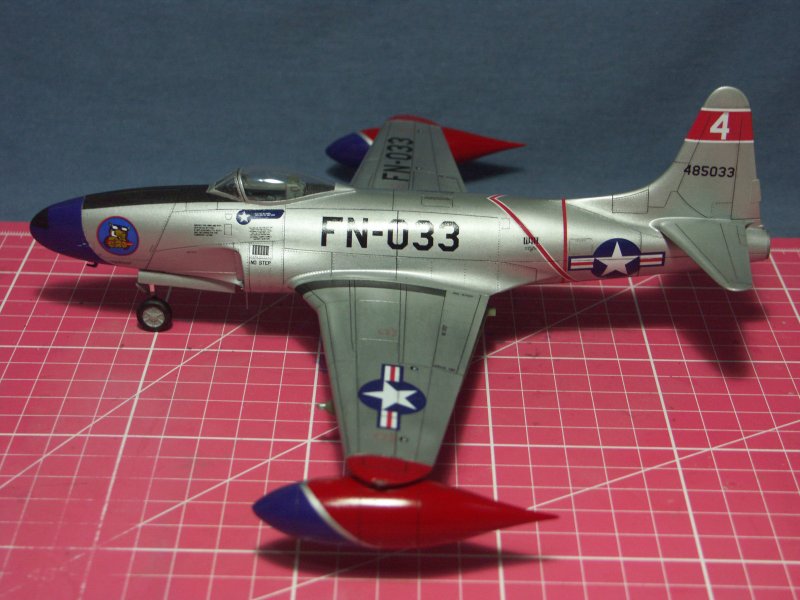 The unit wrote another chapter in aviation history when on 14 July 1948 its F-80 Shooting Stars made the first ever west-to-east crossing of the Atlantic by military jet fighters. Sixteen F-80A/F-80Bs of the 56th Fighter Group left Selfridge Field and made a multi-stop transatlantic flight and then took part in two weeks of training in Germany.
Ulysses Almeida