My latest: Monogram's old F-105G Thunderchief, from the Revell box. I got this via a complicated swap involving an F-105D and some F-15 fuel tanks, and it had only some fairly sketchy decals, so I added a set from Caracal. The markings are for the 128th TFS in the Georgia ANG, in one of the rare overall camouflage schemes from the early 1980s. This may or may not be authentic - as is the layout of the colours, which apparently isn't quite known for certain. The only other aftermarket stuff is a Master pitot tube and some Muller Fruit Corner.

As ever, it's a nicely finished kit, let down by its fit and some ropy engineering. I rescribed almost all the panel lines, just for fun. The Fruit Corner was for the intakes. They have two sections - the rear part sticks out of the fuselage, while the front part comes in two halves with the wings - and they have a noticeable step between them. I covered it by lining the intake with thin plastic from the yogurt pot, which happens to have a couple of bits nearly the right shape. This was a lot more trouble than it needed to be, thanks to my silliness, and it barely shows, but I'm happy that when you look into the intakes you see a smooth surface.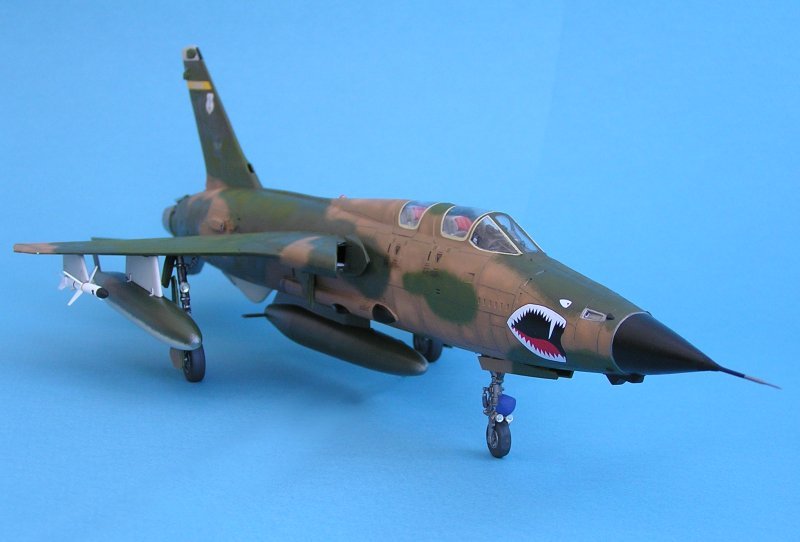 The armament is from Hasegawa's Weapons Set C: slightly finer than the kit versions, and less prone to flash and dodgy seams. I could find no metal undercarriage so it's standing on the kit parts, with the wheel hubs drilled and pinned with the thickest wire I could fit in. Paint is all done with a brush, and weathering with chalk pastels.
Sean Langley