I am on mission. I want make scale and 3D models of the aces of WWII. Recently, I achieved a modeling dream. I finished making 3D models of four major U.S. WWII fighters in the markings for the top aces in each plane.

Of these four, I've made three in plastic. My 1:32 "George Preddy" P-51D Mustang isn't that great but I am pleased with my 1:48 "Richard Bong" P-38 Lightning and my 1:48 "Pappy Boyington" F4U Corsair. I also have made figures for both aircraft.

I have a great 1:48 Academy P-47D kit with a figure for "Gabby Gabreski" to make. It is up there on my assembly line. I was able to use the decals, as I do with the other 3D models, to make texture maps in Photoshop.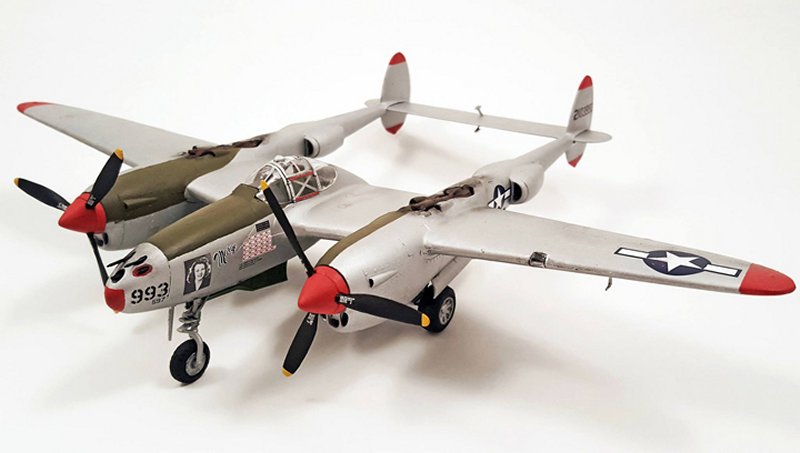 All of the 3D models were created in Strata 3D.

I'm a collector and now have 1:48 scale model kits and figures for several other aces including:

"Douglas Bader" / Spitfire
"Walter Nowotny" / ME-262
"Adolph Galland" / ME-109

I've made "David McCampbell's" Hellcat in 1:48 but haven't made it in 3D yet. I haven't found a figure I like to join the finished Hellcat. I've made "Saburo Sakai's" Zero in 1:48 and a figure.
The 3D is great fun. You can make action scenes and animate the models.
My last scale model and figure I made was "Joe Foss'" Wildcat. That was neat project. I did a story on him for my CAF newsletter. The decals were custom-made.

So I am getting there. I have a ways to go. Definitely a worthwhile goal.

For more scale and 3D models, check out www.shortfuse3d.com

Thanks!
Photos and text © by Konley Kelley
Konley Kelley