One of the long-time wished for kits is for a prototype F-105 Thunderchief. As is often the case for me, I waited, and waited, and no one ever did one, either in vacuform or in resin.

Finally, I ran across a Japanese modeler who had done the seemingly impossible, and built one in 1/48 scale. After viewing his pictures and translating his text with Google Translate, I finally felt confident enough to give it a shot. Here are the results.

I started with the old, reliable Monogram 1/72 F-105D kit as a basis.

I also grabbed the nose from a Hasegawa F-105B, and the turtle deck from an Italieri RF-84F. This, some scrap plastic, and a couple of spares box decals and pieces were what I used to complete the build.

I was kind of a tough build, in that I did not follow exactly the path of the Japanese modeler mentioned above. Being rather a lazy sort, I tried to make the project easier where I could.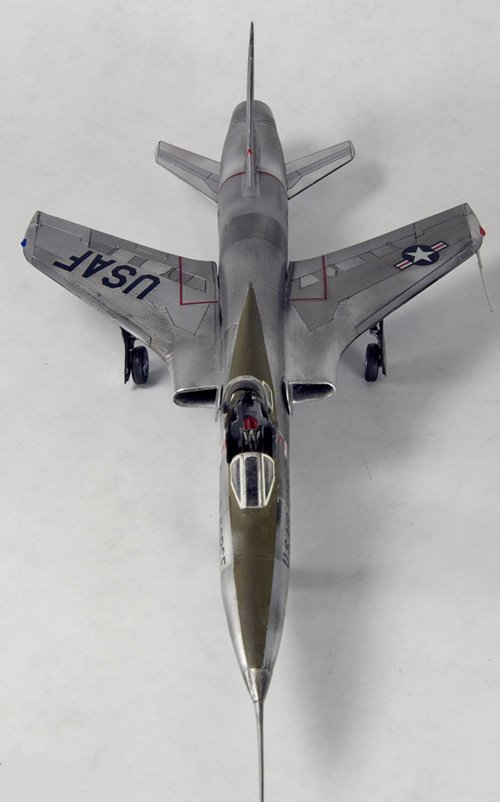 During the build, I also managed to lose the main canopy, and I could not readily find another kit, so I had to learn how to cast my own replacement from clear resin. All the build details, the link to the Japanese modeler's website (I could never figure out his name), and the link to the casting of the clear resin replacement canopy are on the build thread, over on BritModeler, as there were over 100 pictures: Build Thread

In any event, in turned out pretty well and I'm very proud to add it to my collection. I hope that this will encourage other modelers to also "give it a shot"!
Ed Ellickson