This model is an Hasegawa standard box 1/72 F/A-18F. I decided to show this bird from a US NAVY original unit and serial number unknown in 2018 with an attractive paint scheme used to shoot the sequel movie very well know by all military aviation fans around the world : TOPGUN. This special scheme represents the jet used by MAVERICK (alias Tom Cruise) as TOPGUN instructor, TOPGUN 2 will be on screens in june 2020 in the USA. I used decals sheet from an italian small manufacturer named DM Special Color, decals are accurate and not easy to fit particularly the stripes. I used Navy letters, star and wings modex 00 from my decal recovery box. I followed HASEGAWA instructions regarding colors except that I used one gray, for upper/lower light grey camouflage Gunze acrylic FS36375 H308 and Humbrol gloss black 21 for tails, dorsal fin, central tank, and canopy. On rare pictures available on the web the plane seems light gray, faded by sun. I added a weathering to highlight engraved kit.

I like the decoration with the old TOPGUN patch on tails and blue azur stripes (this color is probably inspired by the Tshirt instructors color for the old TopGun schoool at Miramar) and the three victory marks (infamous bandit Mig 28).

This particular plane was seen in an East coast NAS perhaps Oceana and at Fallon NAS Nevada home the NAWDC (Naval Aviation Warfighting Development Center) ex NSAWC ex TOPGUN school.

It was also seen crossing the famous Rainbow canyon in California a low altitude road named JedÔ transition by pilots and famous for airplane spotters.

"Prior to June 2015, NAWDC was known as Naval Strike and Air Warfare Center (NSAWC) which was the consolidation of three commands into a single command structure on July 11, 1996. NSAWC was comprised of the Naval Strike Warfare Center (STRIKE "U") based at NAS Fallon since 1984, and two schools from NAS Miramar, the Navy Fighter Weapons School (TOPGUN) and the Carrier Airborne Early Warning Weapons School (TOPDOME)"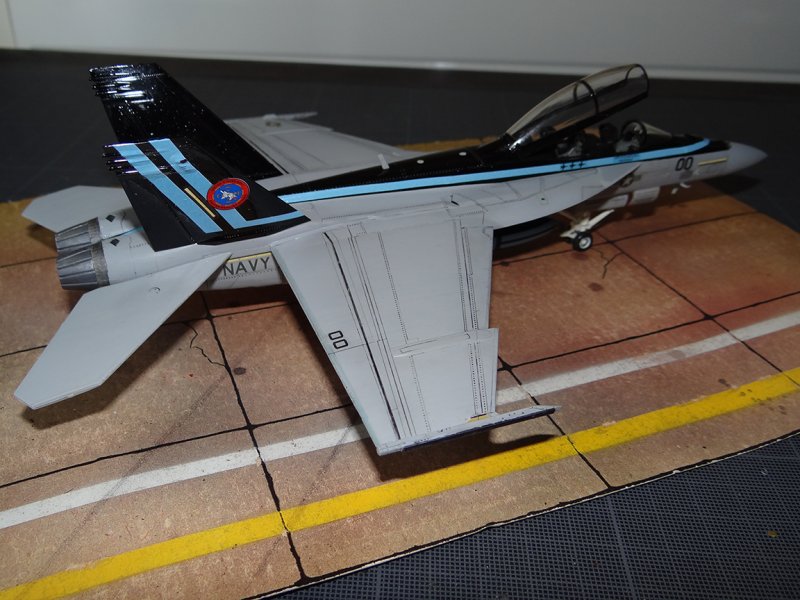 Sadly I didn't see this plane in real I was in base visit at Fallon and Rainbow canyon in 2017 one year early for a spotter trip but nevertheless it was a child dream to be there and from Europe is a long and expensive trip.

For TOPGUN 1 in 1986 I was a young teen but this movie gave me more faith in my military plane passion in all its forms (Models building, books and patch collector, spotter trip..) so as a fan I wait with enthusiasm the sequel movie and whatever the scenario.

PS : I add a drawing from a famous french aviation comics illustrator "Romain Hugault" of a faked movie poster.

Negative ghost rider the pattern is full!
Jean-Charles Goddet