I love carrier planes. US Navy is a source of inspiration for a long time. My very first navy plane was an A-7A from Revell (made in Brazil, under licence) purchased by mail. Now, I have several Corsairs on my shelf. And many more waiting in their boxes. Hasegawa, AMT, Fujimi, HobbyBoss and Italeri. I think Italeri and AMT are the same (Esci?).

Well, it doesn't matter. This model is from Italeri and was made a few years ago. The markings are not from the box. I had an old but good sheet from Superscale, with the beautiful CAG markings from the VA-12 (the 'Flying Ubangis') and good reference, so I used it.

The kit was made almost from the box. Some scribed details (rivets) were added. The only aftermarket goods used were the Eduard Zoom set for this kit and the Superscale decals as mentioned. Some decals were selfmade on my printer to complete the version I chose. The color stripes on rudder, on one side, were made with small decal stripes for each color. The Superscale made two decals that fits on the same side.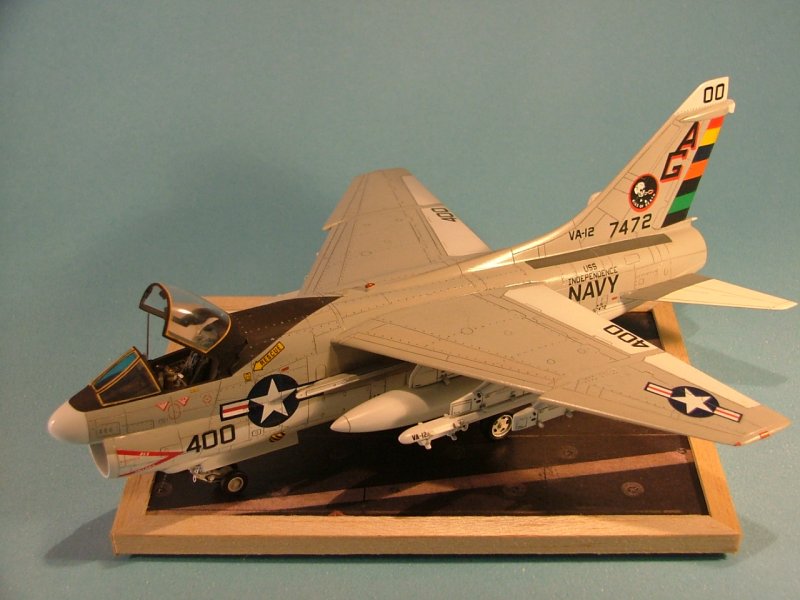 The Italeri version of the "SLUF" is a good kit, despite the absence of a intake trunk. Fujimi have a better solution and HobbyBoss version have a full intake. Anyway, Italeri provides a small FOD covers, that I didn't use, to hide the air intake. The base was made from balsa wood with Verlinden carrier deck card.

That's it! I hope you like it.
Helinton Luis Costa