Moving into a new flat and unpacking lots of old stuff made me wonder why I had so many classic modelling bits and pieces boxed up and out of sight. This, plus inescapable ageing, prompted the thought: if you don't use them now, you never will.

The 1-48 Esci Airfield set was bought many, many years ago - made up and finished reasonably - but then hardly ever used. Now, my interest in modern U.S. planes (in this or any other scale) is just about zero.

So, how to use these excellent little vehicles? Hang about: vehicles and figures? Isn't that what constitutes a diorama? Right, why not.

Thus the first little piece: Esci vehicles, Monogram (I think) pilots, one Hasegawa airman. Then the second: same manufacturer's vehicles (which were great - shame though about the stiff, emaciated figures which accompanied them); plus Hasegawa pilots and groundcrew (all pretty nice). And indeed, the third, going down to 1-72, and being almost entirely Hasegawa apart from three figures of forgotten provenance.

Almost everything here was originally finished years ago in Humbrol enamels. They were updated somewhat with tubed acrylic washes and drybrushing as is my wont these days.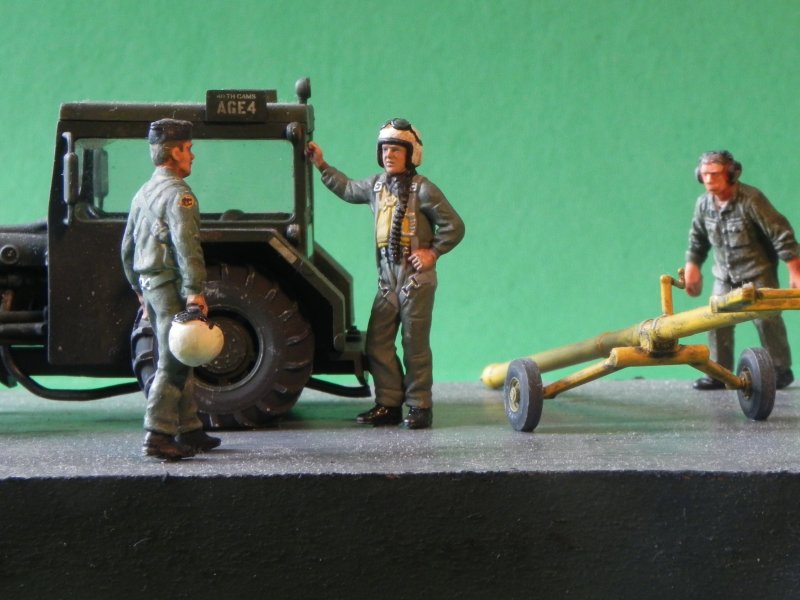 Bases are nothing more than scrap rescued from some rubbish bin.

Putting these dioramas together did make me feel nostalgic for Esci kits though: remember those large-scale cockpits and wonderful 1-9 motorcycles. I know the latter are still available under a different logo but, really, what an innovative company it was . . .
Greg Kerry