We started this Minicraft B-17 a month before my daughter's 8th birthday. She'd already built a few models with lots of help and advice, but this time I wanted to stand back a bit further and see what she could achieve. The kit is quite dated, with lots of inaccuracies and some areas of poor fit, but it was still a fairly simple kit with a low parts count. She has such a busy social life with other interests, so we didn't work on it as regularly as we'd like. There wasn't any rush however, so it could take as long as needed. As a result, the project was spread out over a year, completing it in November 2018.

She got bogged down for a while filling and sanding, particularly at the wing tip top and bottom skins, but the time spent was worth while.

I helped on the build by holding parts while gluing and also setting up a Lego assembly jig to attach the wings. The dihedral isn't quite right straight from the kit and probably needed the wing roots or fuselage fairing sanding to correct it. However, the project wasn't an attempt to create the most accurate 1/144 scale B-17 so it was left alone. My daughter brush painted the aircraft with Humbrol silver, after which I gave it a few sprayed coats of Future, ready for the decals. I had some black decal paper which we used for the de-icer boots, rather than trying to mask and paint them. Once the decalling was done, I masked up the anti-glare panels and the additional windows that weren't glazed, such as those at the side of the nose, radio room and waist, then left her to paint those.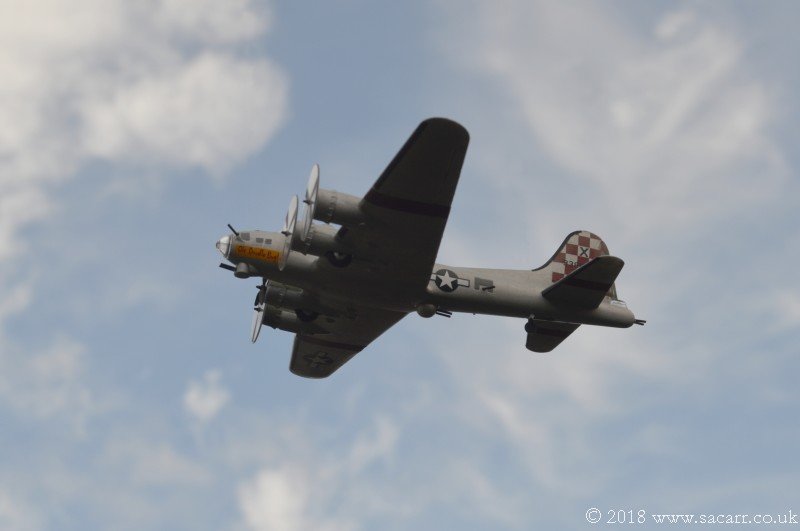 We decided to have three engines running and one feathered.

The feathered engine used a kit prop that I carefully twisted the blades to the feathered position. We cut clear discs for the running engines and I sprayed a black shaded area for the blurred blades.

The plastic gun barrels were over sized and fragile, so I cut some brass rod to replace the plastic. After that, the landing gear attached, then the props and the astrodome fitted. My daughter did most of the build herself and most of my input was advice and holding things for her when needed.

She's very pleased with the finished result but had to wait a few days for a nice blue sky to get some flying pictures. The B-17 is now flying from her bedroom ceiling along with her previous projects, a T-6 and Red Arrows Hawk.
Stephen & Lyta Carr