Lockheed F-104S Starfighter 50th NATO Anniversary
As I find the Italian F-104S "50th NATO Anniversary" is one of the most beautiful colored Starfighters, so I wanted to have it my collection.

The Hasegawa kit is perfectly detailed. Just the Martin Baker ejection seat is too high. Without modification it would be impossible to close the canopy. I had to make it about 3 mm shorter on the lower side. Further I added seat belts out of aluminium foil.

The kit includes a lot of tiny parts and needs some patience, so for beginners, who want to build a F-104, I would rather recommend the Italeri kit (No. 1296 has the best decal sheet); ESCI and AMT are the same kits. The model was painted with brush, colors are from Revell (Enamels).

The decal sheet which is included comes from Aeromaster. The printing quality is perfect and they adapt very well to the surface. The stars and golden 50s on the front fuselage come in one decal for each side. That´s problematic, because of the details on the surface are ignored. So you need to cut them into several pieces, also the small antennas on the lower side collide. Gloss, clear varnish seals my model.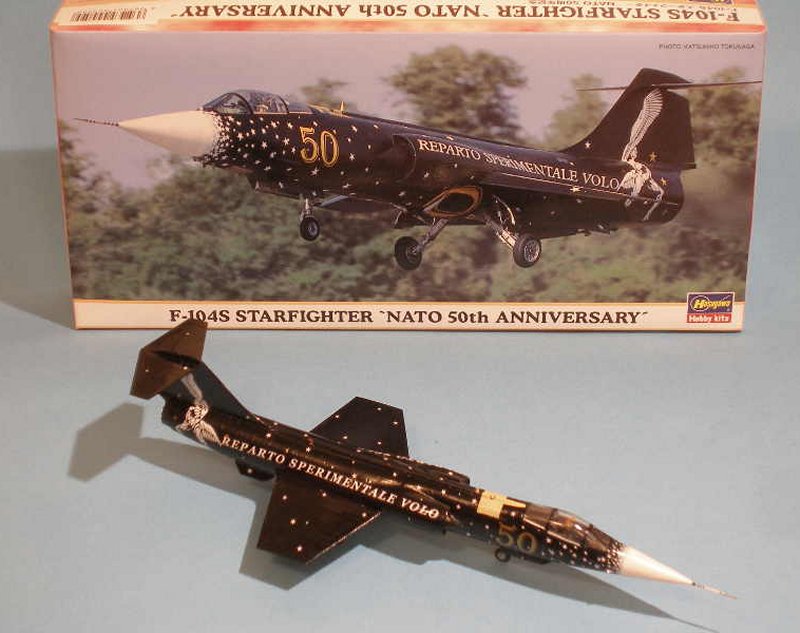 This black beauty is a welcome addition for my Starfighter-collection!

Greetings from Germany.
Thomas Brückelt