I would like to share one of my latest completed projects, the 1/48 Academy U-2S Dragon Lady. This kit consists of parts from the old Hawk molds (from well before I was even born!) with updated parts to make a modern Sierra. So it goes without saying that this kit contains raised panel lines. So I decided to go ahead and rescribe all of the panel lines, which I have never done before.

Let me just say, I am not so sure I will ever do this again! I really HATE doing it, and I am pretty much terrible at it. I found that I sometimes had to force myself to the bench for a modelling session that I knew was just scribing. But, alas, I pushed through it.

I used some aftermarket on this one, which included a Cutting Edge ASARS II nose, Pavla Cockpit set, and Caracal Decals.

The nose required a little work to fit, but nothing terrible. The cockpit is very nice and dropped pretty much right in, and the decals used were quite sparse, but performed quite nicely.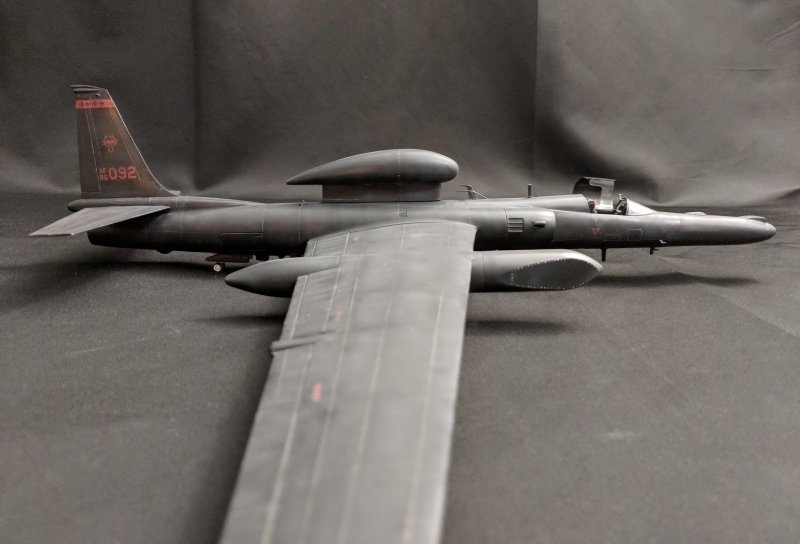 Overall, I am happy with the end result, however I am quite aware this is not my best effort. The re-scribing just sucked the life out of my interest in this kit, and just kinda went though the motions to get it done.

Here is what I used on this build:
Kit: 1/48 Academy U-2S #12307
Decals: Caracal U-2R/S & ER-2 CD48126
Aftermarket: Cutting Edge ASARS II Nose, Pavla Cockpit Set
Paints: Gunze Mr. Surfacer Grey 1200 (primer base), Gunze Aqueous FS 36118 Gunship Gray and H2 Glosss Black, Tamiya Rubber Blackand Alclad II Gloss Black Primer, Airframe Aluminum, and Burnt Iron. Future Gloss coat for decals and Future+Tamiya XF-21 Flat Base 6:1 ratio for final matte coat. Molotow Liquid Chrome also used. Mig Ammo Deep Gray panel wash.
Michael Phillipse