History:
One of the most important combat aircraft to see action in Korea was the straight winged Lockheed F-80 Shooting Star. P-80 was designed to be the first Army Air Force jet, when in 1947 the NSA Act created the United States Air Force all "P-" designations were changed to "F- ". Clarence "Kelley" Johnson was the master Lockheed designer that made legendary contributions to American airpower. The Air Force accepted 1,731 F-80's and 128 TF-80C's from the original contract, final cost of each aircraft $93,456.00. With the workload it provided in Korea, taxpayers got their money's worth.

For this jet, we jump to Korea: With the breakout of war, on June 25th 1950, the F-80 units to be available for deployment from the Pacific and Far East were in the 5th, 13th and 20th Air Forces. The 18th FBG at Clark airfield, 51st FIW at Naha Air Base Okinawa, 49th FBG at Misawa Air Base Japan, 35th FIW at Yakota Air Base Japan, the 8th FBW at Itazuke Air base Japan and the 8th Tactical Recon Group at Yakota. At this time no F-51 groups were present in the theater.

The 8th FBW, under Col. John Price, was the first unit notified of what was called "The Korea Emergency", the Colonel immediately ordered his commanders to prepare for action. President Truman, on June 27th, ordered the 8th FBW to take aggressive action against the North Korean forces. Intelligence was next to nil, so the 8th Tactical recon Squadron was ordered to take stereo photos of all North Korean Airfields. Most F-80 units were moved to airfields in Japan, where there limited range would be most effective, no fields in South Korea were suitable for jet operations at the time.

On June 27th the first F-80 blood was drawn, 1st Lt. William Morris, of the 9th FBS shot down an LA-7. On July 3rd, the first F-80 pilot loss occurred, Maj. Amos Studer, commanding officer of the 80th FBS, strafed a column of tanks northeast of Suwon. He was hit by ground fire, flames seen from his plenum chamber and tail pipe, he set up his jet for a glide back to South Korea by "stocking up" his engine. As the fighter approached low hills, it nosed down and the fighter exploded on impact. He was replaced by Major Harold Price as commanding officer.

Early combat time was limited to about 10 minutes over the target, caused by the limited flying range from Japanese air bases, which restricted the amount of ordinance it could carry. However, in late July of 1950, Gen Earl Partridge, commander 5th AF, over ruled the veto of the use of tip tanks and ordered the big "Misawa" tip tanks to be manufactured a.s.a.p., so all committed F-80's could use them.

Issues occurred with old .50 caliber ammo, they misfired or didn't fire at all. Gun barrels ruptured because pilots held the trigger finger down too long and they overheated or because of the faulty rounds. Fuses for bombs and napalm were old and often failed to detonate. Pilots had never fired the ineffective 2.5 "or the 5" HVAR rockets. Combat conditions required pilots to fire below the minimum peace time limits. This resulted in F-80's being hit by their own rocket fragments before pilots learned they couldn't fire them any closer than 1200' slant range and then immediately pull up. The 80th FBS alone had 22 F-80's damaged by this cause.

The first 5 weeks of war resulted in the 8th FBW and associated units losing 17 F-80's, seven pilots MIA, one KIA, one wounded.

In August of 1950, the 35th, 36th FBS gave up their F-80's for F-51's solely because the F-51's could operate from airfields in Korea, were closer to the front line, pilots could loiter over targets deep in the north for over an hour, and flying back to a close base you could rearm and refuel for second or third missions.

As the war wore on, unit's F-80's was replaced by F-84's and eventually F-86-40's. The last unit flying F-80's into 1953 was the 8th FBG, losing their last pilot on March 1st, Lt. Doug Smith on a "Thaw" night recce mission. Smith could not find the target and called the "Parka" controller, but couldn't establish contact. Calling "in the blind" for anyone to assist to give him a bearing home, he was too far away and low to receive anyone's instructions. He disappeared and was declared killed after the war was over, "body not recovered". The last 8th F-80 lost was on April 1st, 1st Lt. Donald Dahl was hit by AA on a dive-bombing run. He got back about 7 miles north of Seoul before ejecting and being recovered.

The last F-80 fighter bomber mission was on April 30th 1953, attacking the abandoned airfield at Haeju peninsula, returning the war weary F-80s to the 35th FIW, in Japan, for garrison duties. The F-80 continued on with the 67thth TRW, for armed recce missions with RF-80's till wars end. By end of June only 6 remained with the unit. The last F-80 loss of the war occurred on July 10th, 1953. The last FEAF F-80 unit, 40th FIS, gave up their jets in January of 1954.

In the end F-80 pilots scored 17 confirmed kills, 5 IL-10's, 9 Yak-9's and 3 Mig-15's. F-80's completed 98,515 combat sorties, fired 80,935 aerial rockets and dropped 33,266 tons of bombs. Losses due to enemy action: Air to Air (14), Ground Fire (113), Unknown causes (16), losses on combat mission's non-enemy action (134), total combat losses were (277). All F-80 groups that saw combat received a Distinguished Unit Citation.

Model
This is the 1/32 Czech Model F-80C. The kit is simple to build, 5 sprues, has no engine, just the tail pipe. Some nice extras are the Resin parts for wheels, ejection seat, cockpit interior levers and side panel instruments. And Photo-etch parts for the instrument panel. Options for the Lockheed standard 165-gallon tank or the Misawa 265-gallon tank and two bombs. No rockets or JATO packs.

The model took about a month to build, you 'll need weights in the nose. Nice set of stencil and common data markings and 3 optional markings: 1) F-80C-10-LO 49-650 'Saggin Draggin', 16th FIS, 51st FIW, Suwon, March 1951, 2) F-80C-10-LO- 49-423, 8th FBG, Wing Commanders jet, Lt. Col Levi Chase, Suwon, March 1952, and 3) F-80C-10-LO 49-765, "Li'l Dottie", 80th FBG, Lt. Roy Marsh, Taegu, December 1950.

For this model I chose to use the Super Scale decals for "The Beer City Special". F-80C-10-LO 49-748, 36th FBS, 8th FBG, Suwon, late 1952. Saw the shark mouth and I had to build it. The unit briefly sported several aircraft similarly painted from late 1952 into early 1953, but were quickly removed following orders to this effect from the 8th FBG HQ. This jet was flown by Lt. Tom Owens who actually painted the nose art.

Painting:
Used Tamiya silver (TS-30) overall, Tamiya Red (TS-86) for the bottom of the nose, Tamaya Black semi-gloss (TS-29) for the radar dome, and US Neutral Grey (AS-7) for the top of the tail. I overs-prayed with Tamiya's Semi-Gloss before placing the canopy on. Only challenge was inside the air intake, need to do painting before assembly then mask it off before the silver spray, some post touch-up may be needed.

Decals:
1) Super Scale International F-80C Shooting Star, MS320245.
2) Microscale Parallel ¼ "wide stripes, PS-2-1/4, for the walkways.
3) Airscale Early Allied Jet Dial decals, AS32 AJET, for the instrument dials.
4) Kit decals for the stencils.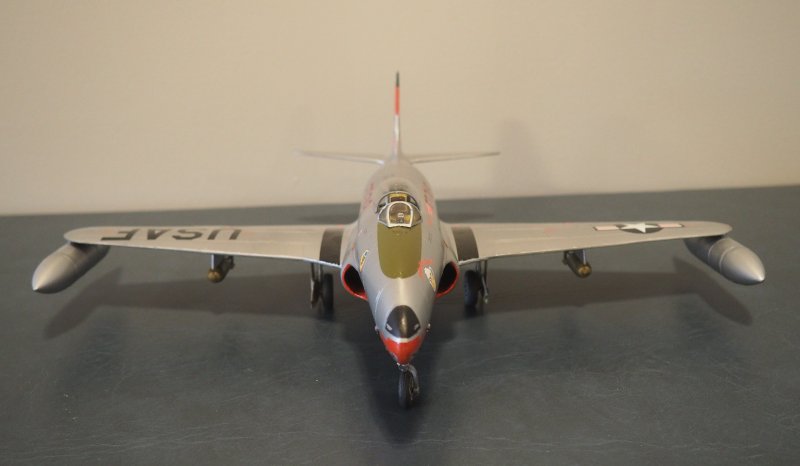 This was my second 1/32 scale aircraft model, was very nice to build.
Overall am satisfied with the turnout of the model that I actually entered it in the I.P.M.S. Nationals in Phoenix this past August 2018

References:
1. Super Scale Decals
2. F-80 Shooting Star Units over Korea - By Warren Thompson, Osprey Frontline Color, 2001.
3. Lockheed P-80/F-80 Shooting Star, - By David R. McLaren, Schiffer Military History Book, 1996.

Thanks to Steve for his great site..
Mark L. Rossmann