Again something from my workbench.
Painting:
Flettner 282 V6 in the paint during the experiments on the mooring "Dragon" in the period of April-May 1943.

The kit of Miniart is just a dream, even OOB sufficiently detailed but also some small negatives are to be mentioned.

The molds have an offset which can be a problem with such filigree parts, especially the rotors, the support loses its stability, the round rods have to be ground, so that the rotor can hang the weight of the wings, who has the courage and is technically capable of replacing these rods with metal.

The second problem is the weight in the nose, the helicopter needs min. 14 grams, this then very far forward, otherwise he tilts on the tail, without the outer tank remains the engine compartment and just behind the seat some space.

As colors, I have selected an RLM 63 from JPS Color for my version, the identification 1943 on the "Dragon" was then marked with a hull band in RLM 71 (of the V6 are known 3 color versions)

The straps I have used by Eduard, the kit from the kit unfortunately do not fit the German version and can only be found on the Flettner 282 V 23 in US service.

There was a break of the very fine parts already when opening the box, as replacement for these parts I used needles with 0,4 mm.

The decals are very good and come from Cartograf.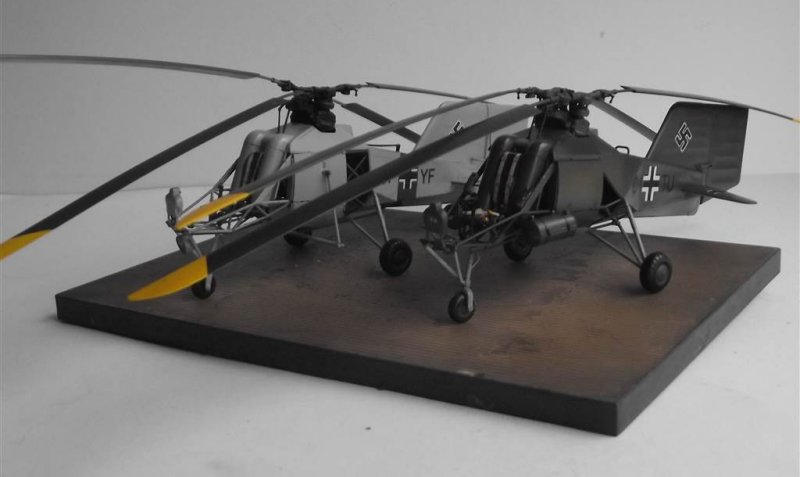 Despite the minor problems, I'm looking forward to the next Version, the Flettner Fl 282 V23,

I was very excited about the construction and I hope I could make you curious about the kit.

Best regards from Germany.
Jens Gerber
Click on images below to see larger images