The I-270 was a rocket propelled interceptor. Two prototypes were built and flown in 1946/47: The first one was flown without engine. Therefore ballast was installed. The second one (which shows my model), was flown with the rocket engine. The project was stopped in 1947, because both planes had accidents during the landing and with the turbojet-development, there was no more use for a rocket-interceptor.

The fuselage is very close to the Me 263, so it fills the gap between the Me 163 family and the first Russian post war fighters.

The kit from Amodel has fine structures on the outside. The parts are fitting well. Deburring is necessary on all parts. The canopy is clear. To avoid that the plane drops on its tail, I added some lead between the main landing gear and the cockpit.
There are not many pictures to find of the original one, but this helpful video:
https://www.youtube.com/watch?v=5txxUfP3Ejo

Here I saw that the red star is also on the fuselage (which is missing for the 2nd prototype in the painting instructions) and it has a pitot tube on the right wingtip.

I added some details: Anti collision lights, antenna, the muzzles beside the nose gear, seat belts and some structures in the cockpit area.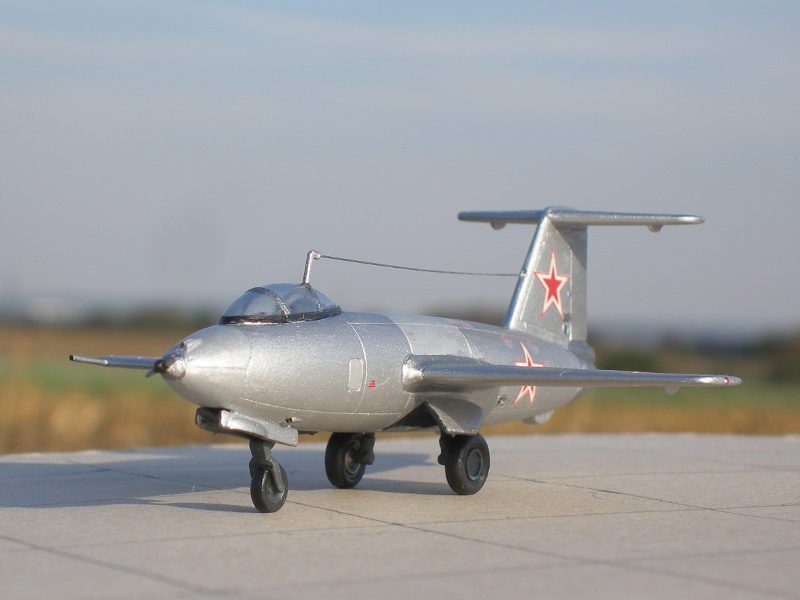 The model was painted with brush. The decals are thin and can be handled well. I sealed the I-270 with clear, silk varnish.

I enjoyed making this less-known rocket plane. I´m very happy that Amodel offers a lot of those unknown planes and avoids that some interesting pieces of history are forgotten in this way.

Greetings from Germany
Thomas Brückelt