The Aerodyne is a very unique VTOL-concept designed by Alexander Lippisch in 1950. It was never built according to his design, but in 1972 Dornier flew a smaller, unmanned version: The Dornier Aerodyne E1.

The resin kit from Unicraft I only can recommend to experts. A lot of rework must be done to get a good looking model. The engine housing got exhaust tubes from another kit. Also the propellers were left from another model. They were 3-blade props and I made 2-blade props out of them. I used carbon fiber rods (Ø 1mm) to fit the engine housing inside the Aerodyne.

I also gave some extra details to the cockpit: Side panels, stick, thrust lever, rudder pedals and a lever for the thrust vectoring. I had to replace the seat, because the one from the kit was broken. The control surfaces for thrust vectoring and the vertical aileron I built from scratch out of plastic (ABS). I used a modified main landing gear from another kit. I´m not sure if the resin parts are strong enough for the model. Anti collision lights, antenna and the large pitot tube give a realistic look to the model. After filling up some gaps with putty and sandpapering, I painted the model with brush and enamels.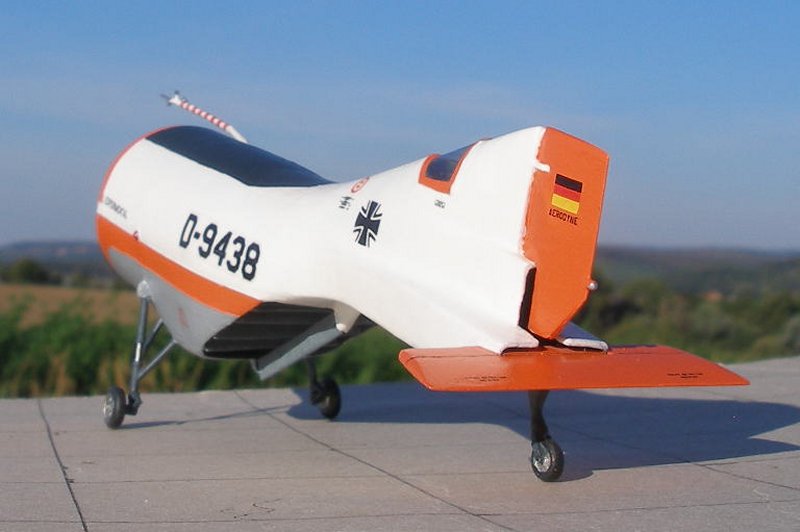 There were no decals in the box, but three nice looking painting suggestions.
I created my own paint scheme and made a German experimental aircraft out of it. After I attached a mixture of self printed decals, decals from other kits and Iron Crosses on the sides from MSN ( https://folientechnik-schindler.de/ ), I sprayed clear, silk varnish over it.

I enjoyed building the Unicraft kit, because it was a little challenge and gave a very interesting and special looking model to my collection.

Greetings from Germany
Thomas Brückelt