This is my 1/35th scale Academy/MRC UH-60 Blackhawk I built it representing C Company "Medevac," 2nd Battalion, 1st Air Cavalry Brigade, 1st Cavalry Division, at CAMP TAJI, Iraq.

The model was built using a lot of Scratch like the carousel litter system, the rescue hoist, removed before flight tags and covers......removed original doors and detailed them, decal printed at home, and a lot more scratch work was done in the cabin area and exterior parts such as wiring, connectors, mainly using lead wire, styrene plain sheets and rods.

The model was painted with Testors Model Master acrylic paints.
The main exterior color is U.S. Army Helo Drab (CARC Aircraft Green FS34031), For the interior the main color is Aircraft Interior Black(FS37031), and Dark Gull Gray ( FS36231). Weathering and paint fading was done with pastels , OD and greens. Sand effect was made using pastel Sets

Also did my first ever base, using wood, sand, glue, and a couple of glass of chivas regal 12 years..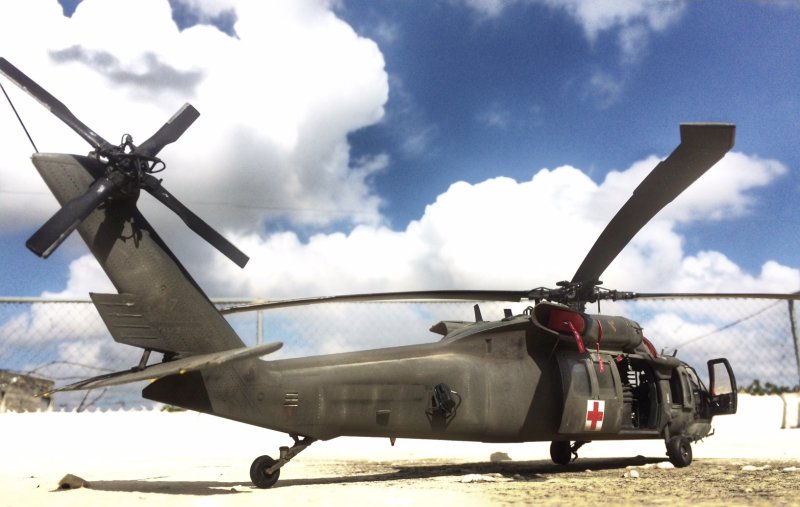 I have to send a special thanks to Rodrigo Aparicio D (salvador001) for all the help, tips, answers and motivation.. and most of all the great inspirational UH-60 He did..

Enjoy it!
Charlies Rodriguez
Click on images below to see larger images