The Northrop F-20 Tigershark (initially F-5G) was a privately financed light fighter, designed and built by Northrop. Its development began in 1975 as a further evolution of Northrop's F-5E Tiger II, featuring a new engine that greatly improved overall performance, and a modern avionics suite including a powerful and flexible radar. Compared with the F-5E, the F-20 was much faster, gained beyond-visual-range air-to-air capability, and had a full suite of air-to-ground modes capable of firing most U.S. weapons. With these improved capabilities, the F-20 became competitive with contemporary fighter designs such as the General Dynamics F-16 Fighting Falcon, but was much less expensive to purchase and operate.

In the late 1980s, local production of the F-20 was discussed with India. The kit was from mid 80s but still it was crisp kit tho it was quite simple but with price tag of just under 10$ you can beat that, over a good kit. That being said there is some cons for the kit the cockpit details is just next to non existance and it was just simple cockpit and display were decal. So when I started It was a quick built, this kit was there with me for more than two years, however, I shifted to my native place when I went this time around brought it back.

The decals were too simple and thought I need to do something and I read that the Indian Air force Almost bought it but later declined. For painting I was inspired by 80s Mig-29s aggressor camo scheme of IAF, the tail depiction is one of the blue tailed Mig-29 with stars on it. I used Tamiya Black and White only, mixing different proportion to make the the different shades of the grey.

May I present you my what if Northrop F-20 Tigershark (Hasegawa 1:72) in IAF livery, for ISM 15 August group build.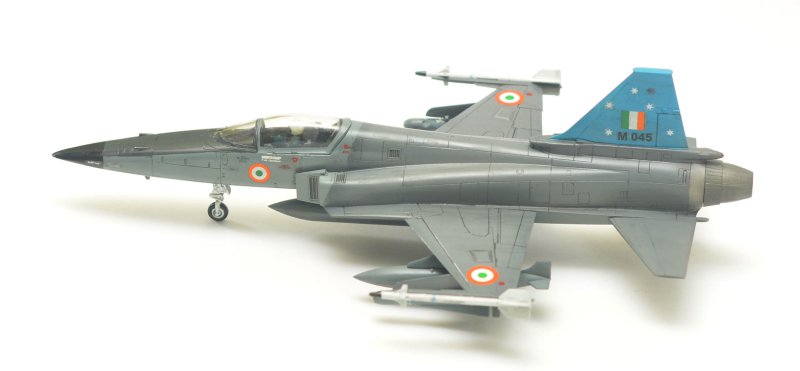 I wish the Indian Air Force bought this aircraft, look nice in IAF livery.
cheers
Tom Thounaojam