The Academy 1:48 MiG-21MF Fishbed-J (which is actually closer to a MiG-21bis), has been around for some time, and is a popular subject among Indian modellers. I've built this as part of a MiG-21 Group Build by modellers from India, timed for India's 72nd Independence Day on 15th August 2018.

The kit is a typical Academy specimen - fairly nice detail and tooling, accurate-ish, decent instructions, mostly a great fit, pathetic decals. This is from the first boxing of this particular subject (been in the stash for over 15 years), and this kit has been released subsequently in two other boxings by Academy and one by Italeri. I built the kit in one of the supplied schemes, C-2281 of No 26 Sqn IAF, the Warriors (so this build adds to the long line of builds of this particular subject).

The kit has been embellished with the Aires resin/PE detail set. The cockpit and seat are resin, the instrument panel is PE, the wheel wells are resin, and there are a few external PE details. There is some scratch-building involved - the pitot is fashioned from hypodermic needles, the landing gear has been detailed with plastic card, scrap styrene and soldering wire. Some antennas have been removed and many others added to enhance accuracy.

The kit itself goes together well, and the only problem I faced was in the join between the front and rear fuselage sections. This was my first time for both resin and PE - the resin turned out to be far easier than I expected (thanks to my trusty Dremel), but the PE was quite a pain.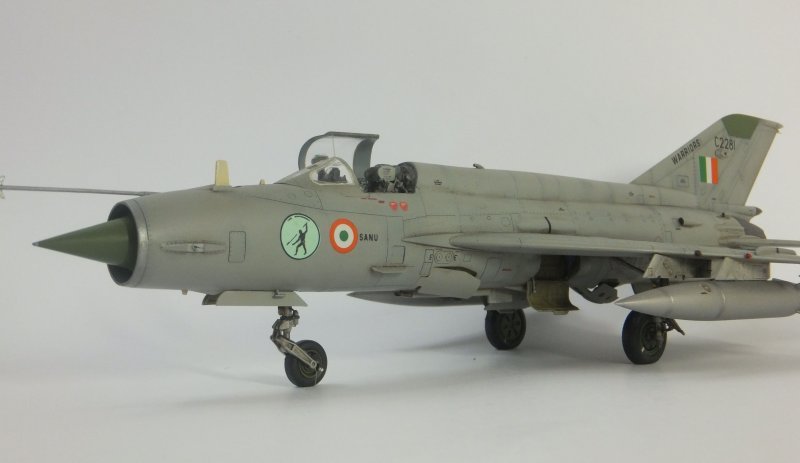 Built over 17 days, about 30min to an hour a day, and a bit more on weekends. Paints are Mr Surfacer 1000 (for priming), Italeri, Vallejo and Daler-Rowney System 3 Acrylics for the main coats and Liquitex Satin Varnish as a matte coat. Weathering/wash is with oils.

Overall an enjoyable build, and I'm happy with the end result.
Bob TheDoc