I've used some extras, wheels by Eduard Brassin

The FuG 202 comes from OWL CZ., unfortunately, this company seems to close, the special sale on the side of OWL is in full swing, very good stuff in 1:72. What a pity, a company that has dealt with the night fighters, already my Revell Bf 110 G4 I had equipped with a kit from OWL, too bad it is a pity that they go !!!!
But the Dragon Ju 88, as always with Dragon, had a putty job, but the result let us forget all the problems

The version represents a Ju 88 C6 / N he 5./NJG 2 1944 in Deelen, Netherlands, in the kit no. 5540 of the Dragon Master series only these decals are available.

As colors I use Gunze Hobby Color "H" mark RLM 75/76 RLM 66 cockpit, RLM 02 suspension, Alclad and rust pigment with CMK for the flame damper.

The OWL Radar fits very well, the nose can be glued almost without rework, then the radar sting are too rough at the pickup points, some sandpaper and this little problem is forgotten. The wheels of Eduard Brassin are a dream, beautifully shaped, simple profile, and they fit perfectly.

I painted the Dragon in a version that is simple for me, meandering, simply because it's just dashes, dashes with small curves.

Each line had to be rewound 4 times and more, only after drying you can see if the coverage is okay, an album on ARC Facebook probably shows the progress a little closer.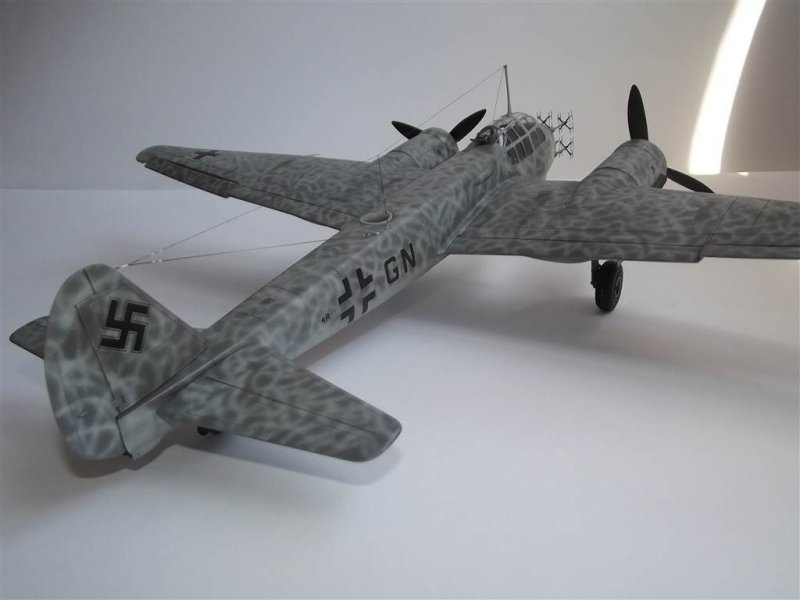 Enjoy the photos.

Best regards from Germany
Jens Gerber
Click on images below to see larger images