There is not much information about the Bombengleiter (Bomb-glider). Some assign it to Lippisch, but it´s not proven and compared to other Lippisch-designs I would say it´s not from them.

The idea was to drop the glider, armed with a 1000 kg bomb, from a bomber from an altitude of 8000 m. The pilot would go into a dive, pull up right in front of the target and drop the bomb precisely. After the raid, the pilot would pull up and a balloon would have been blown up to slow down the little airplane. It´s not clear if the glider should land with the help of the balloon or if it should just slow it down, so that the pilot could get out with a parachute.

The kit from Unicraft - named "Gleiter Bomber" - is made out of resin and contains a deepdrawn canopy. The resin parts must be deburred, the cockpit must be reworked. The inner surfaces are very rough. So I reworked the cockpit, added a pilot figure and a visor. Further I added a frame behind the cockpit, so that the rear part of the fuselage is closed.

The kit can be seen here: http://www.unicraft.biz/germ/gleiter/gleiter.htm

It contains no bomb. Airmodel Products offers a nicely detailed SC 1000 bomb I used:

http://www.airmodel.de/product_info.php?language=en&info=p235_sc-1000-c--hermann-bombe-mit-schlitten--1-72.html&

For the display I used a Ø2 mm rod out of acryl glass. I placed the bomb below the fuselage, so that it looks as the bomb was just dropped.

I used paint from Revell (enamels) and painted the little Bombengleiter with brush and sponge. After I attached the decals (printed by myself and from Peddinghaus [Me 163]) I sprayed flat, clear varnish over it.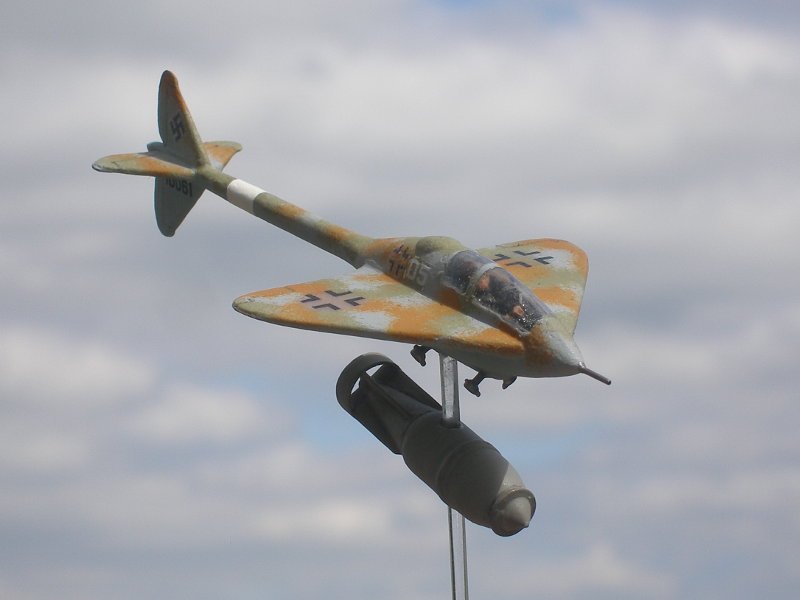 The Bombengleiter is a unique model with it´s very special layout and an enrichment for my collection. Because of the rework which must be done on the Unicraft kit, I only can recommend it to experienced modellers. The SC 1000 from Airmodel Products is easy to build.

Greetings from Germany
Thomas Brückelt