Hi all!
I am back again with another completed project, the Hasegawa F-14A Tomcat in NSAWC "Flanker" adversary scheme, NAS Fallon 1999.

As you know, this is the notorious Hasegawa Tomcat. This is my second one, and I learned quite a bit from my first try. I deviated from the directions in three key places:
Basically what I did was to install the intake trunking BEFORE putting the inner ducting in. This allowed me to get a fantastic join of the intake trunking, which gave me fits last time. For the fuselage join, I cut out the rear bulkhead of the forward fuselage, and attached the completed forward fuselage to only the upper portion of the rear fuselage pancake. Also gave me a much better fit than last time. Third, attach the upper portion of the beaver tail to the upper portion of the fuselage pancake, and attach the lower beaver tail to the lower fuselage pancake. This was a HUGE improvement from the last time. The fit was almost perfect doing it this way.

I used quite a mix of paints on this. Both grays are Gunze Aqueous, the light blue and white are Mr Paint, and the dark blue is Model Master. After managing to not make any boneheaded errors on my previous model (KH Su-22M4), I am a bit disappointed on this one as I used too light of a light blue, but I think it still looks pretty cool. Just a bit too light. There is a lot of conflicting information out there, and I chose the wrong color. I didn't notice it until after I had finished the model unfortunately, and with all that masking I decided to leave it as is. So if you plan on doing this scheme, use FS35190 and not FS35450 as I did.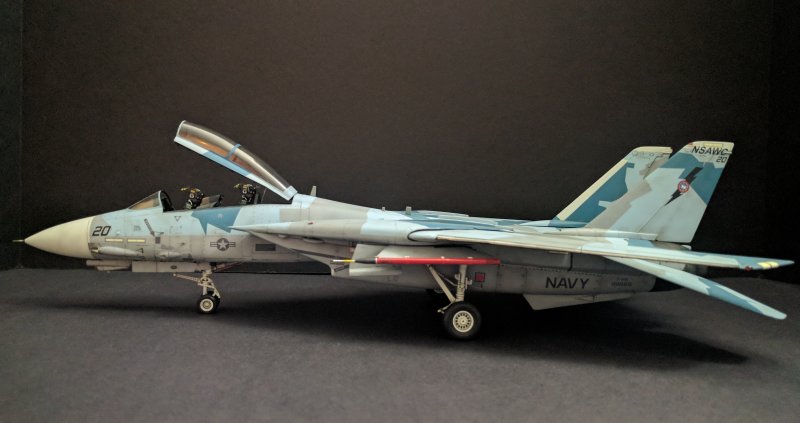 Decals are Fightertown Decals, and they are really fantastic. The fact that this aircraft is devoid of almost all stencils was a nice plus. LOL

Other aftermarket additions are the Verlinden Cockpit Set, Steel Beach Naca Vent, and Master Pitot, and the Hasegawa Weapons Sets C and D for the probe and sidewinder.

Kit: 1/48 Hasegawa F-14A Tomcat PT46
Decals: Fightertown Decals "Top Gun, Best of the Best" 48077
Aftermarket: Master Model Pitot, Verlinden Cockpit Set, Steel Beach NACA Vent, Hasegawa Weapons Set C and D
Paints: Gunze Mr. Surfacer Black 1500 (primer base), Tamiya Liquid White Primer (for marble coat), Gunze Aqueous FS 36375 Light Ghost Gray, and FS 36320 Dark Ghost Gray , Mr Paint FS 35450 Air Superiority Blue and FS 17875 Insignia White, ModelMaster FS 35109 Aggressor Blue, Tamiya Rubber Black, Clear Red, Clear Green, Clear Yellow, and Smoke, and Alclad II Gloss Black Primer, Hot Metal Violet, Hot Metal Blue, Airframe Aluminum, and Burnt Iron. Future Gloss coat for decals and Future+Tamiya XF-21 Flat Base 6:1 ratio for final matte coat. Mig Ammo Deep Gray panel wash.
Michael Phillips
Click on images below to see larger images