This is the long-awaited (by me!) Hasegawa F-35B kit with markings for the U.S. Marines. It is built mostly out-of-the-box, except modification of the horizontal stabilizers to depict the set-up just before or after VTOL. Films reveal that the weapons bay doors are only open the last minute or so before takeoff or landing in the VTOL mod, so the fact that the kit has no weapons bays or weapons is not an issue, given that the model is built to represent those last seconds before (or after) the weapons bay doors would deploy.

The model was built with MM enamels, Alclad II metallic (and topcoats) and Sovereign Hobbies Colourcoats ACUS41, FS# 36170 Aircraft Grey enamel for the top color. A light coat of severely thinned Alclad II Aluminum provides the needed metallic sheen, when the light hits it just right.

Like the Hasegawa F-35A kit, this kit features virtually perfect -- in most cases a "snap" -- fit. Unless you get the paint on too thick, which I warn against!

Since this is a Marine aircraft which will not be able to deliver a lot of available small weapons in the Close Air Support role until the introduction of newer software later on, I took the liberty of adding a Multi-Mission Pod, which has been tested on the B and C variants, which includes a GAU-22 25mm mini-gun, and often, 4 rockets, all housed within the pod. The Marines are always ready! I found the pod on Shapeways.

Links are provided in the build thread here: http://www.britmodeller.com/forums/index.php?/topic/235035599-172-hawegawa-f-35b-marines/&

I had to shave a small wedge off the bottom front of the horizontal stabilizers to get the flight attitude I desired. The kit comes only with a clear cockpit, and you have to add your own "smoke", which I overdid a little. You would do well to have a sharp set of sprue nippers for this kit, as the needed "nips" are many!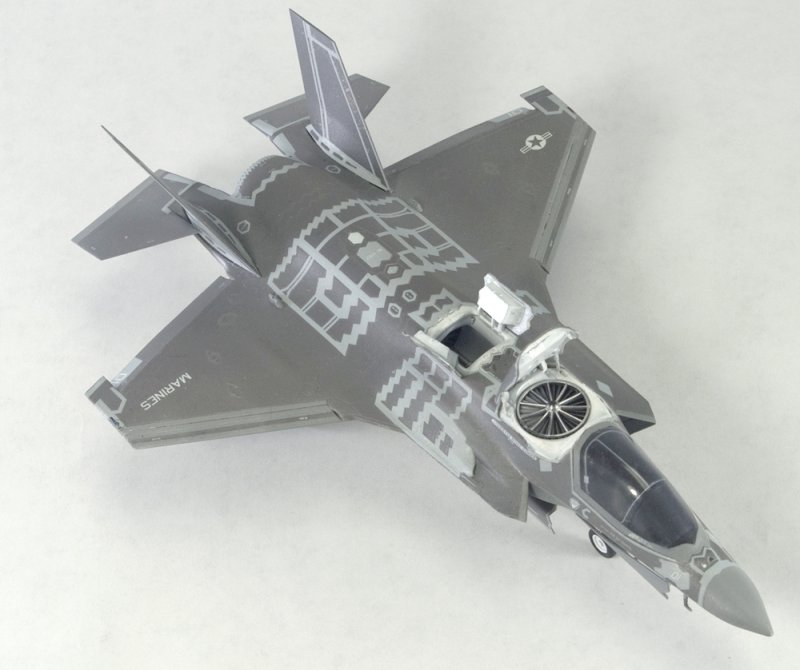 The decals are outstanding and strong, and a few minor improvements have been made to help them fit, vs the A model kit. However, a strong light source and some magnification will be needed to cut out the decals, without damaging others. Ask me how I know...
If you want an F-35B without "terraced landscaping" RAM panels, and you can live with the lack of weapons or bays for same, this is the kit you want, in this scale.
Ed Ellickson aka TheRealMrEd