This model is an Hasegawa 1/72 F-15C. I decided to show this bird with an attractive paint scheme from 65th USAF dedicated aggressor squadron based at Nellis AB Nevada in 2014. This squadron is very well known by military plane aviation enthusiast for colourful camo on F-15. It was disbanded during 2014. This special scheme represents a bird with the serial 78-0509 block 22 F-15C (single seat) McDonnell Douglas now Boeing manufactured in Saint Louis in 1978. I used decals sheet from TWOBOBS manufacturer 48238, I bought it on ebay in second hand partial 1/72 sheet because it is a two scales sheet 1/48 and 1/72. Decals are very accurate (Tail numbers, badges, insignia on engines protection, and all small markings) and easy to fit except top tails checkerboard stripes needed a lot of attention. I followed TWOBOBS instructions regarding colors, and I used HATAKA Poland paint brand box HTKAS30. It is a specific box of 6 different colors for USAF Aggressor squadron set 2. I used White Grey acrylic A154, Aggressor Grey A157 and Aggressor blue A156 for lower and upper surfaces, wings and tails, vertical fins, canopy For the nose I used Eagle Grey A158. After a light weathering I covered the model with flat Humbrol varnish. This camouflage is the third introduced on F-15 aggressor fleet named Flanker after a snake blue and a snake desert. F-15 try to simulate some Russian Su-35 splinter camouflage. The engines are painted gun metal for external exhaust and metallic chrome for lower/upper maintenance doors, flat white for ceramic inside engines exit. At my knowledge only 3 F-15 were painted with this specific scheme before squadron disband 78-0509, 78-0494 and 78-0528.

I show the bird with empty pylons for air air missiles under each wings and with wings tanks. It is a typical load for basic air air adversary training, they often use air air IR training missiles and sometimes ECM pod. I also show the canopy open, the cockpit is from the box with no resin part addition. I manufactured protection covers for engines and air intakes. It was a pleasure to build a so attractive and decorated plane even It is long way to use tape and paint one after colours. I hope you will enjoy my model, pictures and unit patches. I had the great luck to see this plane at Las Vegas Nellis for Red Flag 2014-2 exercise and took some pictures of this bird during a USA spotting trip see it in the article. I hope the USAF will keep Alaskan 18th and Nellis 64th aggressor squadrons on F-16 and not subcontract all aggressor activities to private companies I like too much these camos.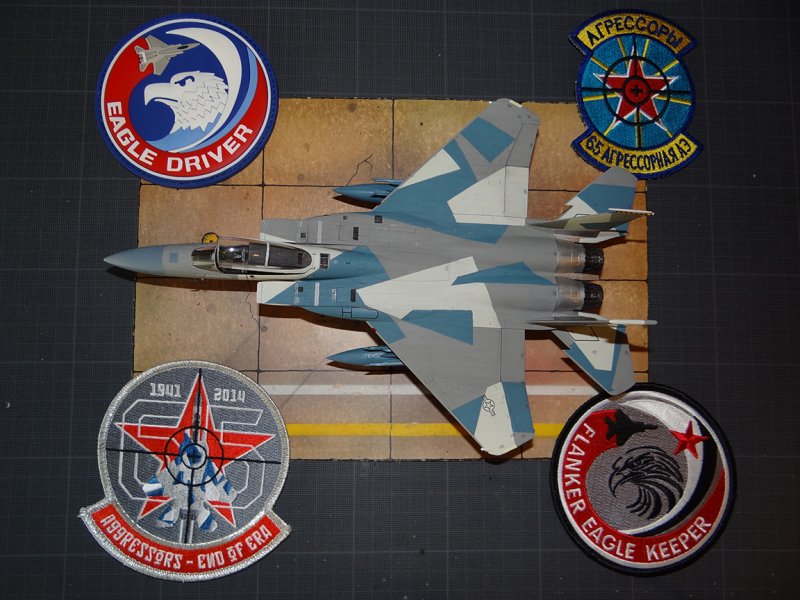 "Tally Ho! Aggressor six o'clock! "
Jean-Charles Goddet