The Lippisch GB-3/L was a planned but never realized project of a guided bomb with ramjet as powerplant. Because of its layout, which is very similar to the Lippisch P.13a, it would be a problem to fit it below smaller aircraft, like the Fw 190. So the project was cancelled in 1944. I wanted to have this in my collection, but no kit existed (just the old one from A+V models, which is no more available). So I designed it with a CAD program according to views I found. I gave the 3D model to my friend Markus who printed some of them with his 3D printer.

I told Matthias Simon from Airmodel Products ( http://www.airmodel.de ) about my idea and gave him one of the printed models. He reworked it and made a nice resin kit out of the printed base with a trolley he designed. It looks very well when a SdKfz 2 Kettenkrad (not included) pulls it.


Here is the new kit:

http://www.airmodel.de/product_info.php?language=en&info=p361_lippisch-gb-3-l---transportwagen--1-72.html&

As you can see the kit contains a little number of parts, so it´s built in a short time and you don´t need to be an expert.

First I built the model showing the Kettenkrad pulling the GB-3/L on Matthias´ trolley. The Kettenkrad comes from S-Model - a very nice kit, very detailed and it includes photo etched parts. The kit comes with parts for two models. Unfortunately it includes no driver, so I had to make one out of other figure parts.

Because the GB-3/L was cancelled as air-to-ground-weapon I had the idea to show it as a ground-to-ground-missile. Therefore I bought the armoured version of the Opel Blitz from MAC "German 3t AA Vehicle with Armoured Cab & Flak 38", also an excellent and lovely detailled kit with plastic, resin and photo etched parts. It includes a small trailer for another version of the kit. I modified it and put another GB-3/L on it. I had to build the launch pad and the crane from scratch. Further I had the idea to show the launch of the weapon. It´s necessary to accelerate a vehicle first, before the ramjet can be started. So I fixed a booster rocket Rheinmetall Borsig R 109-502 RATO below and made the smoke out of foam material (Depron). The second booster rocket I fitted on the trailer, also a scratch built fire-extinguisher. The RATOs also come from Airmodel Products:

http://www.airmodel.de/product_info.php?language=en&info=p233_rheinmetall-borsig--r-109-502--rato--1-72.html&

Usually they are used as booster rockets for He 162 and Me 262.

On the inside of the foam block a wire is placed, so that I could fit the GB-3/L to the smoke. I covered the foam with wood glue and sprayed it in white. The wood glue makes the surface harder and protects the material from chemical reactions with the painting.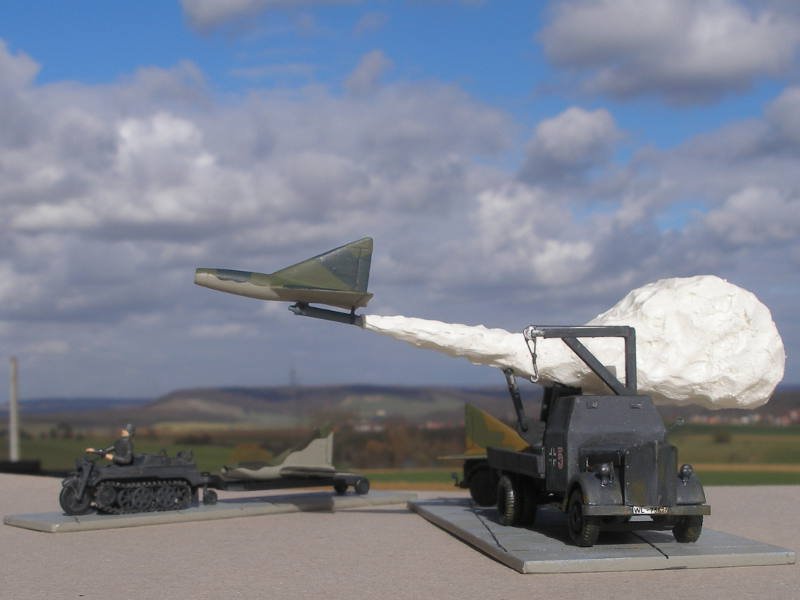 The models were painted with brush and sealed with flat, clear varnish.

The base plates were made out of plastic material (3 mm), I engraved the gaps and used a sponge to give some structure to it with light brown and light grey.

I enjoyed this project very much, the GB-3/L gives so many possibilities for 1946-modelling and looks always interesting and unique!
Thomas Brückelt