After building 16 jets and 1 helo, this project represents a bit of a detour from my usual modelling milieu. A buddy of mine suggested that we do a buddy build and break from my usual area of interest. Cleanse the palette, he called it. So this is my first prop, first WWII, and first NMF aircraft.

We quickly decided to build Mustangs, and since I am mostly unfamiliar with any WWII type (other than the basics), the search was on for a scheme to build. After browsing through the eBay decal selections, I came across one from Lifelike decals that really caught my eye... "The Oklahoma Kid", piloted by Capt. Barney Fudge of the 74FS/23FG Based at Liuchow, China, in 1945. I thought the black nose contrast to the NMF was very striking.

The kit is the P-51D kit from Tamiya. It is a fine kit, and after building all jets and a helo, it was indeed a nice change of pace. Much less complicated to build than what I have been used to, this build took me less than two weeks. But there was the added wrinkle of doing a NMF, which I had never done. Overall I am pleased with how the finish turned out, but I did learn it requires much more surface prep and care than I am used to.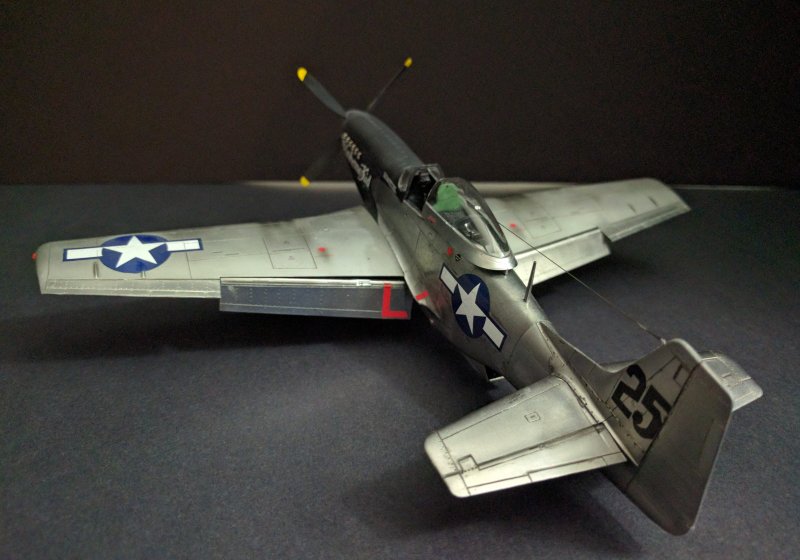 So, as you know, nothing ever goes according to plan. This particular boxing does not include the correct propeller to do a P-51K. I needed the Aeroproducts propeller. So I went aftermarket and purchased the Ultracast Aeroproducts resin propellers. These are very nice.... but, my unfamiliarity with propeller aircraft came back to bite me in the butt a bit here. There is no jig that comes with the set, so I was on my own with how to place these in the spinner. I thought I had it right, then superglued them in. After I showed the pics to a friend, he quickly pointed out I didn't have the propellers set quite correct. So I tried to take them out of the spinner, and no way, they were set in there solidly. Oh well, I can live with it.

Kit: 1/48 Tamiya P-51D Mustang
Decals: Lifelike Decals North American P-51 Mustang Part 3
Aftermarket: Ultracast P-51 Mustang Aeroproducts Four-Blade Propeller and Spinner
Paints: Alclad Gloss Black Primer, Tamiya smoke and Rubber Black, and Alclad II Gloss Black Primer, Airframe Aluminum, Aluminum, Duraluminum, Magnesium, Stainless Steel, Jet Exhaust, and Burnt Iron.
Michael Phillips