Here is my 1/48 Academy Su-27 Flanker in Kazakh Air Force markings. This kit builds pretty easily (not a whole lot of parts), and the fit is decent, with some fit issues with the intakes and rear fuselage join. It's not a bad kit, but not great either.

One of the biggest issues with this kit is the nose. It is simply not close to the correct shape. So I went aftermarket here using a Metallic Details nose. It looks pretty nice, but there was nothing on it to show which way to attach it. I am not entirely sure I put it on correctly, but it looks right to me. I also used a QB Pitot and Begemot Decals, and that is the extent of aftermarket pieces I used on this.

You may notice the "5" of the yellow "05" on the gun side of the forward fuselage looks a little janky. The reason is it is hand painted. While masking for painting the bare metal of the gun panel areas, I peeled most of the "5" off when removing the masking tape. Doh! For some reason, the "0" stayed on just fine. So, I had a choice, either shell out $20 for a new sheet and wait for a few weeks for to arrive, or try to use the remaining pieces of the decal and paint the rest of the "5" on. It turned out decent, and I am happy with it. Definitely good enough to not buy a new set of decals.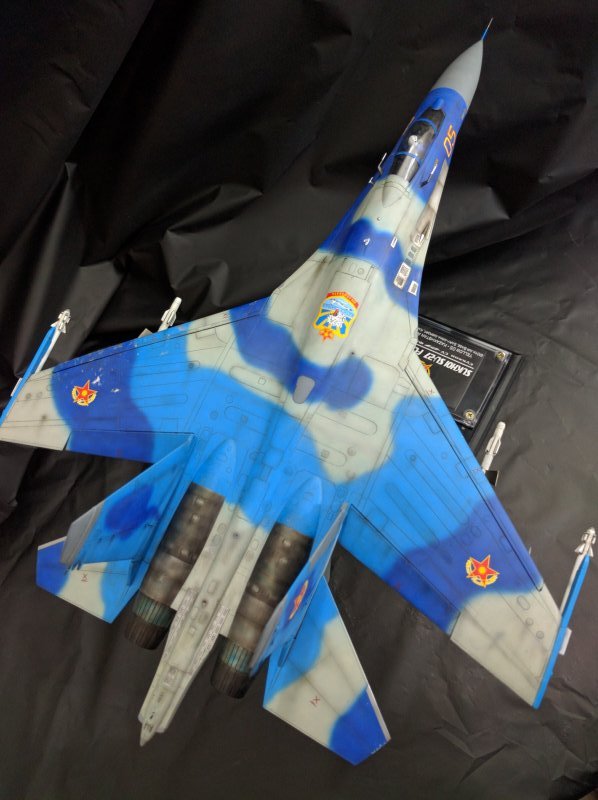 Also, while I was looking at pictures of Kazakh Su-27s, I notice they were mostly in really good shape, paint-wise. However, one of them (Yellow 14, actually, not 05) had significant paint chipping on the left wing showing bare metal beneath, especially on the leading edge. So I decided I wanted to see if I could try to replicate this. I think it looks decent, so I am happy with the result.

Here is what was used on this build:

Kit: 1/48 Academy Su-27 Flanker B

Decals: Begemot Flanker Family 2 Sheet

Aftermarket: Metallic Details Nosecone, Quickboost Pitot tube

Paints: Gunze Mr. Surfacer Black 1500 (primer base), Tamiya White Liquid Primer (for pre-shade stippling), Gunze Aqueous H5 Dark Blue, H75 Sky Blue, H57 Aircraft Gray (light), and H75 Dark Sea Gray, Tamiya smoke, and Alclad II Gloss Black Primer, White Aluminum, Copper, Hot Metal Blue, and Burnt Iron. Future Gloss coat for decals and Future+Tamiya XF-21 Flat Base 6:1 ratio for final matte coat. MIG Deep Gray for panel washes.

Overall I am very happy with how this one turned out. The camo scheme is very striking!
Michael Phillips
Click on images below to see larger images