This model is an Hasegawa 1/72 US Navy F-14B from a brand new limited edition box number 02152. I decided to show this bird with an attractive paint scheme from VF-74 "Be Devilers" dedicated in aggressor role just before disbanding, based at Oceana NAS Virginia in 1994. This squadron is very well known by military plane aviation enthusiast for its devil badge. This special scheme represents bird serial 163221 F-14B (new powerful engines & electronic system) block 150 built in 1987 and finished its career at VF-103 in mid 2000 years. I used the decal sheet from the box, decals are very accurate (devil's head, numbers, and all small markings) and easy to fit. I followed the HASEGAWA instructions regarding colors, grey Gunze acrylic FS36375 H308 lower and upper surfaces and grey Gunze acrylic FS335237 H337 marks on upper wings and fuselage, fins, vertical fins, canopy edge and nose. This camouflage is not standard. It was used only by this squadron to simulate adversary plane with Russian origin. Satin black area on fins and vertical fins simulate the shape of Su-27 flanker. The engines are painted stainless metal for external exhaust and I showed all airbrakes open with red insignia H327 on internal parts. I added a black juice weathering to enhance structure lines and rivets plus a matt Humbrol varnish to get age this plane and show it was used intensively.

I show the bird without external fuel tanks, and empty pylons for air air missiles under each wings. It is a typical load for basic air to air adversary training, they often use air to air IR training missiles. I also showed the canopy open, the cockpit is from the box with no resin part addition but photoeched parts from the box to detail ejection seats handles and canopy mirrors. It was a pleasure to build and paint a so attractive and decorated plane.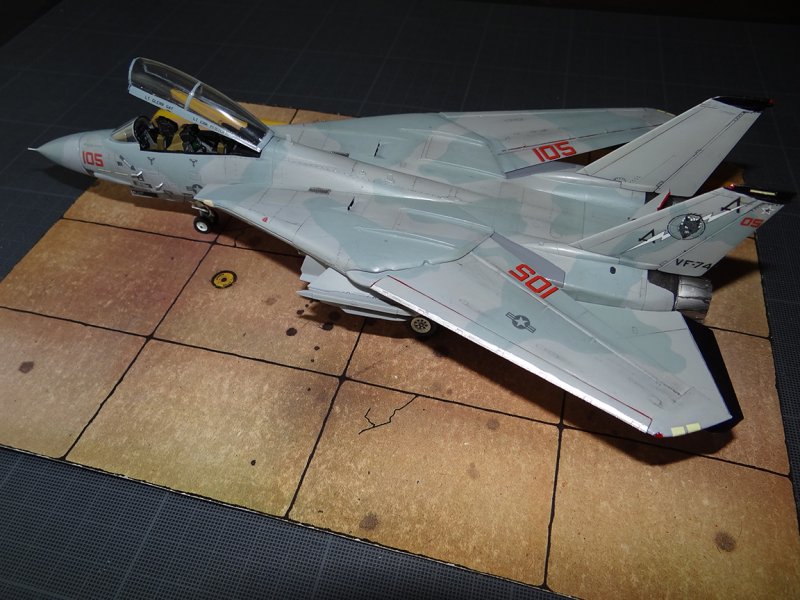 I hope you will enjoy my model and pictures.
"Be careful of the Devil"
Jean-Charles Goddet