Last year the last Mil-8 Hip retired from active service from the Indian Air Force was known as Pratap in the service, and I did like to make a Hip and pay tribute to this magnificent aircraft. I still remember when I was a kid when these Hip would fly low near my home and I would run after them to see a glance of it.

I had this Hobbyboss kit, I thought I will make a Mil-17 as I don't have a Mil-8 but then Hip is a Hip :). The kit is really nice, I have to say much better than Zvezda and less complicated to build as well, however, sadly when I opened the box I realized I had a broken clear part, which was almost in two pieces it pricked my heart. But I continued and build the helicopter, everything went smoothly.

For paint I used Tamiya XF-66 with a pinch of white and look similar to the new grey colors tone of the IAF, the problem I now had was white serial numbers, initially, I thought I submit without a serial number, hence two pictures without a serial number. Luck struck as I was looking through my old decals sheet box I found a few white serial number, I wanted for it to have Z3050 however since I didn't have two zeroes I make into Z3057.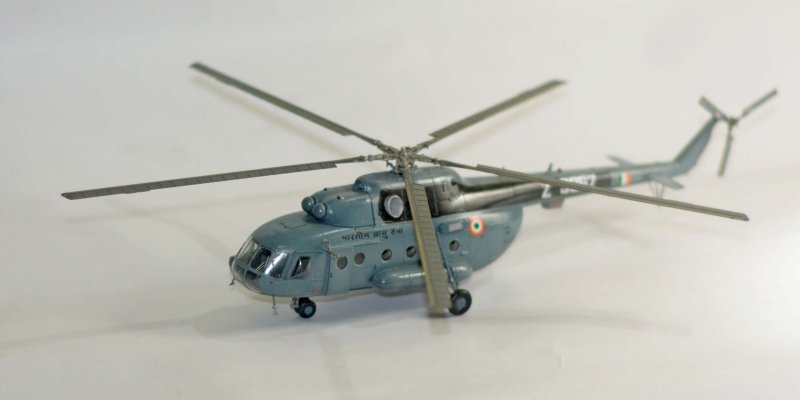 I would like to thank, members of Indian Scale Modeller group, their valuable inputs always help you improved your knowledge about the subject and make a better model.

Overall I like the kit and would recommend to anyone who wants to buy a Hip and the price is quite decent as well.
Tom Thounaojam