Atlas Cheetah was a South African project developed by Atlas Aircraft Corporation. Atlas built three versions: Cheetah D, E and C.

It was developed as a major upgrade of the Dassault Mirage III and is based on the IAI Kfir.

Cheetah arrived to Ecuador on 2012 (10 single-seat Cheetah C units and 2 two-seat Cheetah D units).

To built Ecuadorian Air Force (FAE) version, I used mainly 1/48 Kfir from Kinetic and Cheetah C resin conversion from Scaleworx. To change Kfir to Cheetah C was hard because I used resin to fit on Heller Mirage III, but on these days Scaleworx has made a resin conversion to be fitted on Kinetic Kfir, so you can do a Cheetah C easily.

Main work done on resin was to fit front fuselage in resin to rear fuselage in plastic in the correct position (see photo 03) and to correct front wheel bay position, similar to Kfir, using hand tool (see before and after on photos 04 and 05).

Work on Canards was important too, because are a little bigger than Kfir´s canards and it was necessary to correct dimensions and shape (see photo 06)

Because Cheetah was basically a Kfir with Mirage III upgradings, it was necessary to look around surfaces and identify on photos, details like intakes relocated and blocked panels, in order to eliminate on model (see photo 07 and 08).

Paint colors applied on model was done according to Scaleworx instructions as following: overall Dark Ghost Gray Humbrol 128, to paint gray diamond in over and down surfaces it was used Dark Grey Humbrol 27, radome and cockpit were painted with Light Ghost Gray Humbrol 127 (see photo 09).

Decals used are from Scaleworx conversion, except flags and roundels (made by myself)

To do weathering, I used Smoke Black powder from Monkey Modelling Paint (MMP).

Ordnance used was: two Python 3 missiles, four Mk.82 bombs in front and rear supports underneath fuselage. Also were installed subsonic fuel tanks on each wing and center line fuel 1300 lt tank.

Martin Baker Mk.6 used on Cheetah C was provided by my friends.

Pitot tube and angle of atack AOA were used from pieces included on Kfir C.10 conversion from Wingman.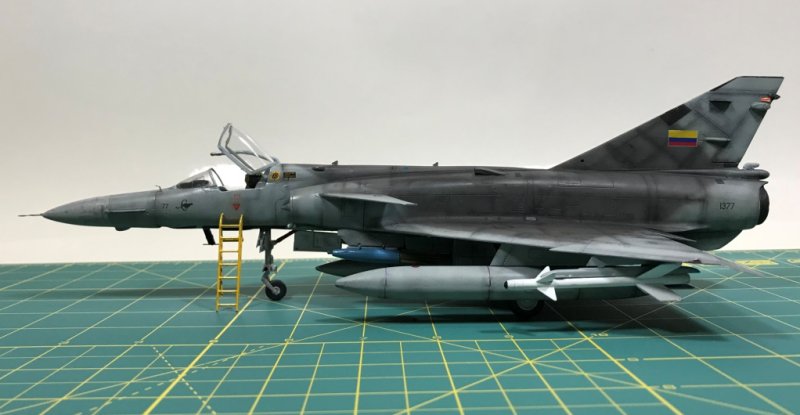 Finally, my sincerely thanks to: Milton Gordillo, Cristian Bastidas, Fernando Lamas and John from Scaleworx for your support with pieces and specific information provided about Ecuadorian Cheetah C.

I hope you enjoy these photos.

Regards
Javier Johnson
Click on images below to see larger images