What a stylish plane the Lightning is. I never built it, so far: I was afraid of so huge of a wing surface to manage: how many mistakes to get rid of; to not mention the green over gray finishing: how could I render colorful fading of it ? it would surely come up a dull, uninteresting finishing. On the other hand, I have been working on modelling for many years for it brings to me any time a new challenge. Therefore, let's try.

The box comes from Academy, 2005 release. A nice model indeed: all parts stick together with very few to low issues. Inner cockpit has enough details OOB I did spend not even a dime on aftermarket nor to build from scratch any adding part; I just pointed out details richness through a good dry brush color application. Up to you to evaluate the result.

Same story for landing gear compartments and doors: zinc chromate yellow (acrylic) is wonderful to be treated with a very very thin brown washing up to show all door engraved details.

I also found very comfortable the design of model: once those parts (cockpit and landing gear) are over, to build it is quite a smooth path; Academy's choice strengthens such a sensation, provided semi-processed parts are just three: main wing (with fuselage and cockpit) plus two side segments: the two tails of German name: Der Doppelschwanz Teufel (two tails Devil). On the other hand, main wing over side segments joint is tricky to paint (due to real plane characteristics, not to Academy model engineering). So I decided to make something different this time: to paint three parts separately and later on join all of them.
Much effort was spent to ensure separately painted pieces would have joined easily. Unfortunately, it wasn't: it has been one of my faults, but no matter the cause, finally I had to destroy a result that high (to my skill), sanding and re-scribing a wide portion of engine's cowlings, than repeating the entire (long) process: over a primer layer, I sprayed acrylic neutral grey and whited olive drab; then, many hands of lighter and lighter whited olive drab, until using original one. Hands were applied, more and more thin, following panel lines, to simulate color fading for each separate panel.

You understand why I hated myself and my whimsy. At the end, I succeed to have parts joint with less to no defects along joining lines, but for nose to fuselage joint: indeed a tricky point, the only due to the manufacturer.

I followed Academy suggestion so reproducing P - 38J "California Cutie'", of 55 FS/20 FG, participating to D-Day from an English base. So wearing black/white d-day stripes. Well, to a given extent, I did not follow Academy instructions: being aware few days after D-Day, Allied command asked to start removing stripes from upper surface, I assumed to reproduce my plane after such a guideline, to have a wider surface to test fading capability. Something I was not able to manage is decal silvering, so if looking angle is the wrong one, you see it.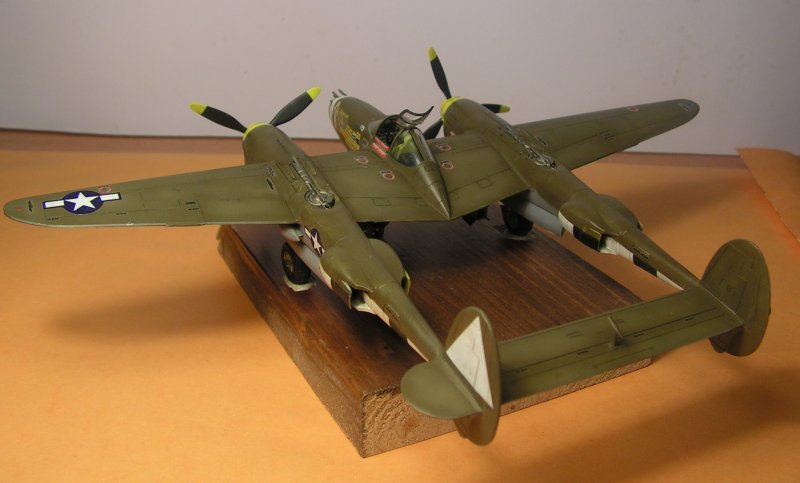 Finally, machine gun barrels, bombs and rocket launchers along with open canopy ended up work . but for a way to keep it on a stable position: this is a real tail-sitter plane, and I had no heavy to add within nose. I got a wooden piece, engraved three holes mapping airplane's landing gears position. I filled them with blue tack like mass, than I pressed wheels in. You can also flip all upside-down: no problem.

This provided me a surface where to apply a label where to report some info about model manufacture as well as reproduced airplane.

In the end, I enjoyed build it (despite troubles I went through) and I like to see it in my showcase (even with some defects you can find here and there); I will surely exploit this fading technique in my next works.

Have a good modelling time
Andrea Pomettini