A-7E Corsair II Hellenic Air Force
Greetings from beautiful Greece. Here are some photos of my Hasegawa A-7E Corsair II.
Serving Hellenic Air Force
A-7E Corsair were received in 1992-1993 after the Gulf War from US navy force recoverable reserves , after their withdrawals of type in 1991.

The 160552 has been painted with these colors in honor of the Gulf War DESERT STROM. After the War the A-7E 160552 was painted again with the Vietnam colors and have give to the HAF.

The Kit
The detail is excellent in correct dimensions. Fit is excellent as well.

The cockpit area includes almost everything, and pilot's SJU-8 ejection seat is a masterpiece of detail. The landing system is very well designed.
Construction
This particular aircraft is an A-7E of HAF. The construction began with the cockpit. For the interior colour l used H315 Gunze grey. The instrument panel and side panels are painted with Matt Black. A few scratch built improvements were added on stencil ejection seat. The pilot's headrest and seat cushion in painted with olive drab. Everything in cockpit area was dray brushed with light grey. Zinc chromate yellow green is used for the inside areas of electronics panels. For the camo I used H310 TAN, H311GREY, H303GREEN and H309DARK GREEN and all is from Gunze.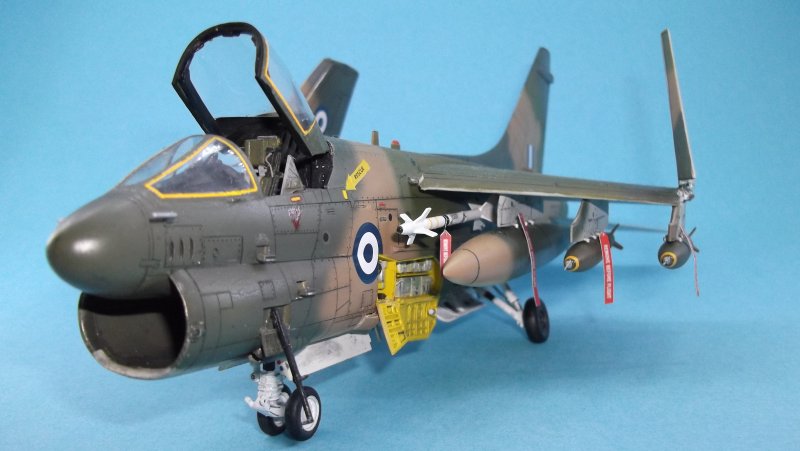 The HAF decals are from a Greece model supplier shop.
Athanasopoulos Panagiotis