When the news about Indonesian Air Force will receive 24 unit of F-16C/D 52ID, this info so making happy among Indonesian Military Enthusiast, including air military modeler including me who have a dream for built one of them. This opportunity can be realizing in 2015 when local decal maker: Cap Jempol Metal (CJM) released their decal collection for F-16C/D 52ID, complete with the paint for make green-grey camouflage that used on F-16C/D 52ID.

The kit that I used for this project is Academy KF-16C in 72nd scale in my stash. Thanks to CJM which supply many info that very useful when you want to built F-16C/D 52ID.

Except the shape of nose and the shape of flaperon are wrong, Overall quality of this kit so great, details are great everywhere, include para-brake housing that supplied by Academy, so I can save more money for next project.

F-16C/D 52ID basically is F-16C/D Block 25 which get some upgrades on avionics in order to equivalent to Block 52 and refurbished airframe. From this knowledge I already know if F-16C/D Block 25 upgrades have a few the strengthening plates around her like on below the RHAW blister, on base of vertical stab and wing roots. The strengthening plate that I used from CrossDelta which supplied a strengthening plate for F-16C Block 25/30/40 on one sheet, yeayy...

The Decal that supplied by CJM is great, the quality of the carrier film is thin so can easily follow the surface details, the accuracy is great too both for color and size. Likewise for the paint, the quality is good, easily dry and very close to its original color for F-16C/D 52ID.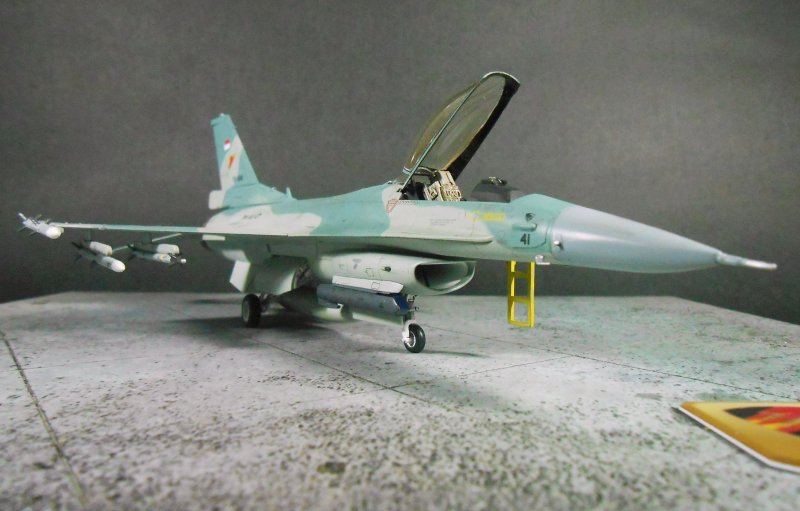 For increasing the appearance of my F-16C 52ID, I select loadout for interception duty that consist 4 x AIM-120Cs and 2 x AIM-9Xs with external centerline fuel tank and don't forget to attach the AN/AAQ-33 Sniper XR for optical search and track. For an AIM-120Cs come from my friend stash that give me for free, an AIM-9X and external centerline fuel tank come from the box, and an AN-AAQ-33 and F-16's access ladder come from Hasegawa. This selection based on following news when my country had choose to acquisition the F-16C 52ID with her supporting equipments such as AIM-120C, AIM-9X and advanced targeting pod, Sniper XR.

I'm happy when my F-16C 52ID finally done so I can place its side-by-side with my P-51D kit which used same squadron insignia, Skadron Udara 03. From this project hase inspired me in the future to make "Heritage Flight of Skadron Udara 03" from this project. Because Skadron Udara 03 of TNI-AU once operating P-51D, OV-10F, F-16A/B and F-16C/D so for this goal I should make OV-10F or F-16A/B after this, it must be nice see a models with same scale line up in my display cabinets.

Regards
Andri Sanjaya