Ilan Papini, the maker of the great Vehicle Simulator ( http://www.hangsim.com/vsf/ ) had the idea to make the new program, the Fire Flight, which is a very accurate and engaging flight simulator focused upon aerial fire fighting missions. It has - like the Vehicle Simulator - very realistic physics and can be found here: http://www.hangsim.com/fire-flight/index.php
I support Ilan in making the flight models for his fascinating programs since many years now, and during this time, a good friendship grew up. So I enjoyed very much being involved as a volunteer in the Fire Flight, which honours also the work of the pilots and firefighters.

One of the planes in the Fire Flight is the CL-215, a very beautiful and well known aircraft, as I find. Inspired by the simulator I wanted to have a model of the CL-215. So I bought the very well detailled kit from Amodel in 1:144. It includes also all parts for the CL-415 (turbo prop, offered as an separate kit), photo etched parts and excellent decals for two CL-215 paintings.
I was surprised how lovely detailled the cockpit is. I wanted to show my model during take off from water, so I added two figures from Preiser (1:160). Further I cut off the flaps and attached them in take off position. The control surfaces of the elevator were also cut off from the horizontal stabilizor and fitted in a slightly pulled up position.
The parts are fitting very well. Some sink marks need to be filled up with putty. I painted the model with brush. After attaching the decals I sprayed clear, silk varnish over it.

For the water I used a blue, transparent plate out of acrylic glass. I sanded the waves onto the surface. To get the surface smooth, I brushed thinner several times on it. The lower side was painted with a mixture of dark blue and dark green. The upper side was painted with transparent blue.
The spashy water I made out of transparent resin. Therefore I made a simple mould which I filled with the resin. Finally I had to paint it with white, because it looked not realistic as a transparent part.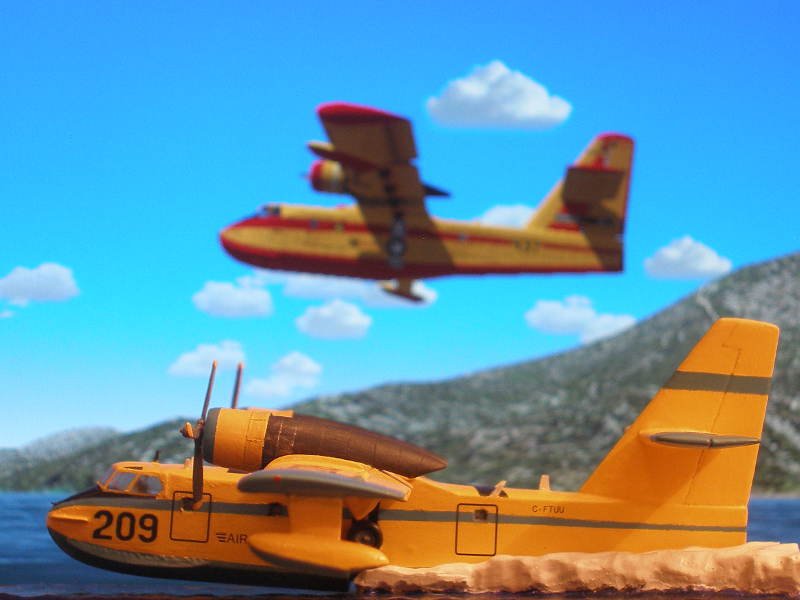 I enjoyed it very much making a model reminding me on the cool Simulator Ilan created and connecting two hobbies!

So if you're waiting for drying paint or glue: Check out the Fire Flight! Boredom will be history!

Greetings from Germany
Thomas Brückelt