A certain time ago Rudolf Vogel from Bird Models told me about his idea to make a model of a fictional, reworked He 280 which could be a new competitor to the Me 262. I liked the idea and modified views of a He 280 and called it He 380. He made a resin kit inspired by my drawings in different versions. My model bases on the kit "Heinkel He 380 V1", which is offered in Rudolfs ebay-shop.

I made some modifications to get my model closer to my drawing. Compared to the He 280 (I have the "V1" glider in my collection from Huma) the fuselage and the engine housings were made longer. Wings were cut off on the inner side and wing roots with large radius on the leading edge and on the trailing edge. The tailplane was turned into a cruciform tail. I built the vertical stabilizer and elevator from scratch again, because in my design these parts were a bit larger than the parts in the kit. On my drawing I moved the cockpit backward, but on the model it´s kept in the original position. So it reminds more on its origin.
I imitated the compressor wheels with decals. For the cockpit I built a panel, sidepanels, stick, visor and I detailled the area behind the seat. The kit includes 2 deep drawn canopies. The first one I mistakenly damaged and the second one had a little deformation on the front. So I made a new canopy by myself.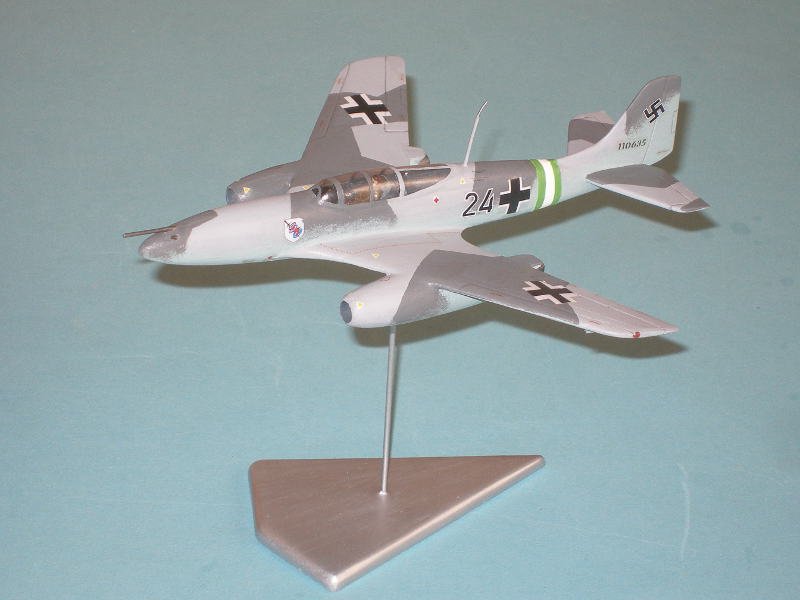 Final details on the outside are antenna, venturi tube and the barrels of the guns.

The model was painted with brush and sponge. The decals came from other kits and decal sheets from the aftermarket.

I enjoyed making the drawing of the model and realizing my design on the base of Rudolfs resin kit.

Greetings from Germany
Thomas Brückelt