This model is an Aeromaster 1/72 French Dassault Mirage 2000N. This box is a limited edition with plastic kit coming from Heller brand and improved accessories with Eduard resin parts, Hi-tech photoetched parts, vacuformed canopy, white metal gears and Microscale decal. I decided to show this bird with an attractive paint scheme from EC 2/4 La Fayette for the squadron 100 years anniversary. This squadron is very well known in France, at his creation it was used by American volunteers during first world war in 1916 before USA war entrance in 1917. In 2016 based at Istres AB this squadron used for the last time Mirage 2000N (primary task nuclear deep strike) before transition on the period 2016-2017 on Rafale. I used specific decals sheet not from the box, but from Syhart decal a French manufacturer. Decals are very accurate (stripes & stars, badges, Sioux Indian head, and all small markings) and easy to fit with a lot of attention and water. I followed Syhart instructions regarding colors and used included mask paint. Humbrol bright red 220, bright blue 14 for lower and upper delta wings and a progressive Humbrol black 85 to medium grey 128 for the fuselage and wings tanks, nose is Humbrol matt black 33. This camouflage is really not easy to do with classical brush, I haven't any airbrush. The photoetched external exhaust is painted with a mix of gun metal and aluminium and some antennas are painted in Humbrol Grey 125 or pale yellow Gunze H313.

I show the bird with two external fuel tanks, and empty pylons for air air missiles under each wings. It is a typical load for airshow demonstration, this specific plane coded 125-AM number 353 was used for the last year RAMEX French air force demo patrol in 2016. This patrol is cancelled following Mirage 2000N retirement. I also show canopies opened (vacuformed cut part), the cockpit is from the box in resin and ejection seats too. It was a pleasure to build a so attractive and decorated plane. I like this squadron for his history, I hope Rafale will soon have a similar flashy decoration.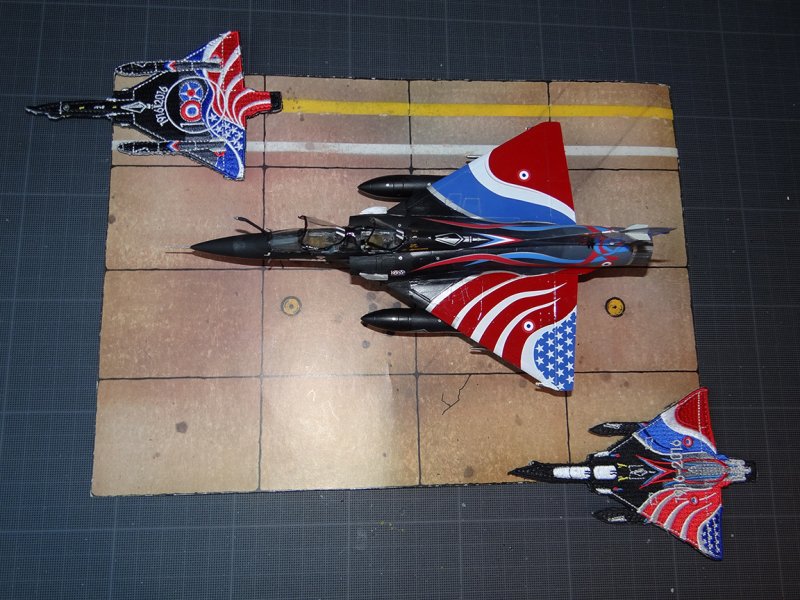 I hope you will enjoy my model, patches and pictures. I add some pictures of the real plane, I had the opportunity to see and spot this beauty in static and in flight at Istres AB airshow in 2016.
"Be careful of Sioux arrows"
Jean-Charles Goddet