A4 B/P Fuerza Aérea Argentina 1982
During the 1982 Falklands war, Skyhawks of the Fuerza Aérea Argentina, along with the Israeli built Daggers, several times raid the British Task Force, preparing to retake the island.

This Skyhawk belonged to 5 Grupo de Caza-bombardeo (5th Fighter-bomber Group) nicknamed "Los Halcones" (The Hawks). On June 8th, 1982 this plane, A-228, was piloted by Teniente (Lieutenant) Alferez Vazquez from Base Aérea Rio Gallegos. His order was to attack the British fleet approaching the Islas Malvinas. Showing extreme bravery in a low level attack, his plane became a victim of British defending fire over Fitzroy Cove.

At all, 21 Skyhawks were shot down by the defenses of the British forces.

"A-228" wore tactical yellow ID stripes over the dark brown (FS 30118) / dark green.(FS 354088) camouflage on the upper surfaces, The undersides are in light blue (FS 35231).

"A-228" carried 2 bombs, and three external underwing-tanks for the 800 mile trip from the Argentine mainland to the Malvinas and back. Of course Air-to-Air refueling was planned, but to find the C-130 tankers and fulfill a safety refueling was difficult in rough South Atlantic winter conditions.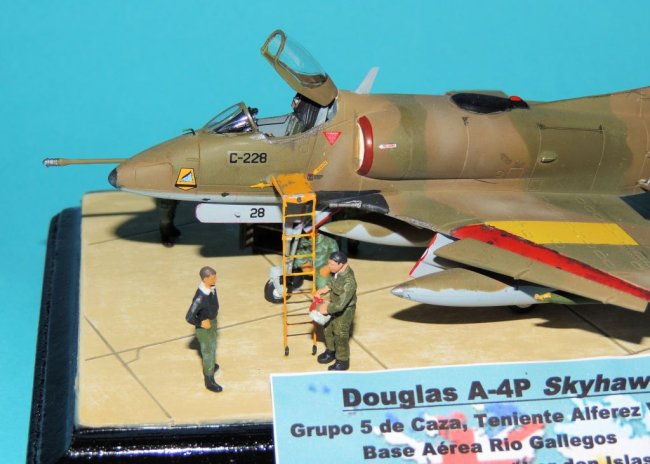 Building the Airfix A-4 B/P was easy. I added a Pavla resin cockpit, a Flightpath ladder and the perfect Aztec Decals. Paints are from Life Colour and Revell Aqua Paint. Weathering with diluted oils colour and ink. The Argentine planes need heavy weathering because of the rough weather conditions.

Some details have to be added, as the avionics hump on the spine and the antennas on both sides of the rudder.

As usual with most of my models, I place them on a little diorama. This one shows the situation on Rio Gallegos Airbase on 8th of June 1982, minutes before departure of A-228. Teniente Vazquesz discusses last tactics with another pilot prior to enter his plane for his last flight.
Gerd Wilcken