On the Airpower 2016 in Zeltweg / Austria I was very impressed by the Saab SK-35C Draken of the "Swedish Air Force Historic Flight" (http://swafhf.se/ ). So cool to see that they keep their old planes flying!

I made a video-summary of this amazing day, you can see it here: https://www.youtube.com/watch?v=4BZZrYXZvfo

My good friend Oli Blasche ( http://www.scalesegler.de/ ) took some excellent pictures of the Draken which supported me very well in this project.
Actually there is no model kit of a twoseater-Draken available in 1/72. So I took the very simple kit of the Draken single seater from Aeroplast and made the SK-35C out of it.

The kit has no details for the cockpit (there is just nothing inside!), smaller parts like landing gear and armament are very rough. This was no problem for me, because for my model I didn't use this parts anyway. The kit includes a later version of the Draken, with the longer afterburner, so I had to make the tailsection shorter. I also built a new nozzle which allows to look deeper inside.
The cockpit was built from scratch. I used ejection seats (RS-35) from Pavla and a pilot figure from Revell. The canopy and the little, transparent shield on the instrument board of the rear cockpit were deepdrawn parts. Further I added a block out of plastic with a silicone tube inside to fit the rod of the display later.
On the outside I added antennas, the vertical sheets below the wings, the pitot tube, the little NACA-intakes on the upper side of the fuselage, the mirror on the top of the canopy, the small intakes in the rear and on the left side behind the canopy.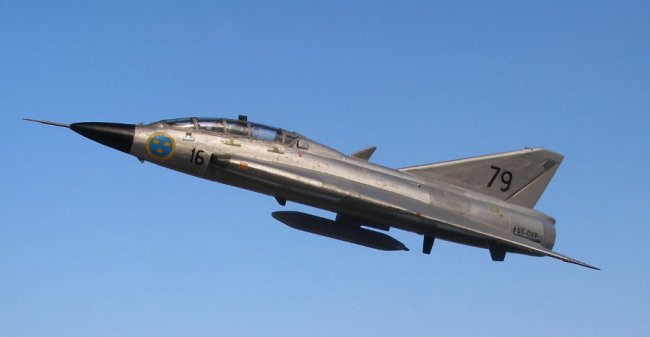 The model was painted with brush. I used different colors from Humbrol and Revell (Enamels). Some decals were from the kit, some I had to print by myself or used from other kits. The Swedish markings come from a decal sheet from TL-Modellbau. In the end I sprayed clear varnish over the Draken.
I enjoyed making this model which will remind me on one of the best airshows I've ever seen!

Greetings from Germany
Thomas Brückelt