History:
After WWII, peace and prosperity came to an abrupt end when Communist North Korea smashed into South Korea on June 25th 1950. The Air Force threw everything it had from Japan, but there was still a need to get more aircraft into the region, U.S. aircraft carriers, the nearest was the USS Valley Forge (CV-45) in Hong Kong over 1000 miles away.

Within hours all personal were back on board and Valley Forge and steaming to Subic Bay to be readied for combat. Arriving off the coast of Korea on July 1, she joined up with HMS Triumph as part of Task Force 77, with Carrier Air Group (CVG 5) and two squadrons for F9F-3's with VF-51 and VF-52.

VC-61 Detachment 'E' (tail Code 'PP') brought the first recon Panthers (F9F-2P's) into the fight aboard the USS Princeton (CV-37) in early December 1950, with the VF-191 Panthers. Cameras in the nose replaced the four 20mm cannon. VC-61detachments flew the majority of the Naval photographic intelligence missions in Korea, as they gradually replaced the venerable F4U-5P Corsairs into 1951.

The advantages over the piston Corsair were - Speed; 1) Reducing battle damage over the target, 2) escorts generally not needed unless in 'MiG, 3) lack of vibration from the props providing clearer images.

F9F-2P's were converted from F9F-2's during 1949 and 50. Since Grumman built only a small number of the -2P's, detachments equipped with this type typically deployed 3 of the aircraft.

The next detachment of F9F-2P's arrived with the USS Boxer (CV-21) in early spring of '51' in the form of VC-61 Detachment "F". Between January and mid-February of '51' the -2P's were kept very active, flying 48 sorties. VF-191 F9F-2's dwindled to 17 aircraft and 28 pilots, VC-61 did manage to keep all three -2P's at strength.

U.S.S. Boxer from March through April sat off the coast of Songjin and Hamhung launching heckler strikes, many jet launches were cancelled because of bad weather. Panther's flying armed reconnaissance were fully loaded with 20mm ammo and six 5-in HVARS, while jets flying recce escort had no pylon mounted ordinance. May brought better weather with VC-61 Det "F" recording 87 hours.

In November of "52" Valley Forge (a CVA-9 type carrier) operated F9F-5 Panthers and reported no issue with catapulting the larger heavier jets with the newer H4B catapults. The fully loaded -5 was 19,000 lbs, the shorter carriers needed to get plenty of wind across the flight decks to get the maximum performances from the -5's.

Later in December of "52", the USS Philippine Sea, CVA-47, was making its final war cruise with VC-61 Det "M'" with F9F-5P's; these were built specifically as recon jets and were not converted from -5 stocks. The nose of the -5P, housing the camera bay, was about 12 inches longer than the standard -5 model. These aircraft came unpainted allowing for higher speed. In the end though, salt water corrosion took place and the deep sea blue color went back on.

Intelligence asked Det "M" to fly 50 sorties for pre and post strike images. Once printed, the film was sent to four carriers in the task force. F9F-2's flew top cover to take on marauding MiG-15's, none were encountered. The more powerful and faster -5P's were in and out of the target area quickly, cutting down the enemy gunner anti-aircraft reaction.

Recon revealed, in the first 10 days of February "53", the communists were challenging the arial gauntlet, when over 3392 trucks moved into the Wonsan area.

Det "D" returned to the U.S.S. Princeton in mid-January "53" with new -5P's to finish out the war. -5P's also served for Det "B", USS Valley Forge CVA-45. No photographic Panthers are to have been flown by the Marines during Korea, per my references.

In all, the following recon Panthers were lost:

Three -2P's were lost from Det "D", on the USS Antietam (CV-36) (10/21/51, 11/2/51& 1/29/52)
One -2P from Det "H" on the USS Valley Forge (CV-45) (3/11/52)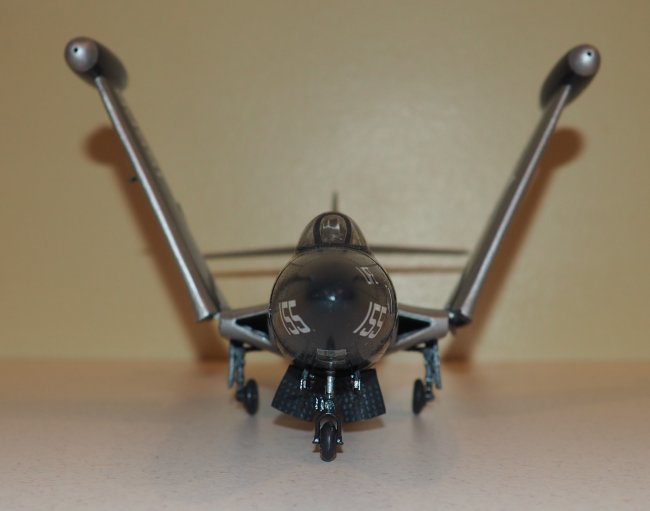 Models and Markings:
#1: F9F-2P (#155) - Trumpeter 1/48th
This is a well constructed kit, it allows for the canopy to be open or closed to show a reasonable good cockpit which I used from the kit. I did take a page from the Monogram F9F-5P, took card stock, and placed a black dot from a medium sharpie to represent a camera lens. I then cut to size and placed on the inside of the jet behind the window to represent a camera lens, do not attach to the clear window. Since many pictures show aircraft on carriers with wings folded, I chose that option.

Paint is rattle can Testors gloss Sea Blue, silver and Testors acrylic chromate green. Kit decals representing VF-61, Det "G", USS Bon Homme Richard (CV-31.

#2: F9F-5P (#8) – Revell 1/48th.
This is one of the best Monogram/Revell kits available at that time, it is an excellent representation of Grumman only built 36 of. Comes with the paper lenses to place behind the photo glass. No option for folded wings, option for open canopy displaying a fairly good interior with pilot.

Paint is rattle can Testors gloss Sea Blue, silver and Testors acrylic chromate green. A very poor job on my part using Testors white, for the canopy framing. The kit comes with two Marine Corp decal options; I used VCMJ-3, stationed at El Toro California in 1956. No decals at the time of my build, about 2005, were available for a Korean variant.

References:
F9F Panther Units of the Korean War – Osprey Publishing, by Warren Thompson

F9F Panther in detail & scale – Aero Publishing, by Bert Kinzy

Revell Instruction Sheets.
Thanks Steve for your great modeling site.

Respectfully submitted,
Mark L. Rossmann