I built it a couple of years ago for a friend who had retired from Air Canada off the Airbus, but who had begun his career with Nordair on the FH-227. The FH-227 was the stretched version of the Fairchild/Fokker F-27. It had a six-foot plug in the fuselage forward of the wing, and different engines, RR Dart RDa 532's in place of the -529's found on the later versions of the F-27. The 532 was a boosted engine as opposed to the restored power 529, and gave the 227 an extra 2500 pounds of payload.

The model (s) is the Airfix 1:72 version of the Fokker F-27. The Fairchild and Fokker F-27's are identical, except the Fairchild built machines all had a radar nose, have the pitot heads on the nose in front of the cockpit instead of on the wing tips, and the Fokker 'elephant ear' air cycle machine and Janitrol heater intakes are replaced with nostril intakes on the top of the dorsal fin where it joins the vertical stabilizer. Otherwise both aircraft cast the same shadow. What you see is actually two kits, I glued both fuselages together, then cut out a six-scale-foot plug from one and installed it in place forward of the wing of the second fuselage.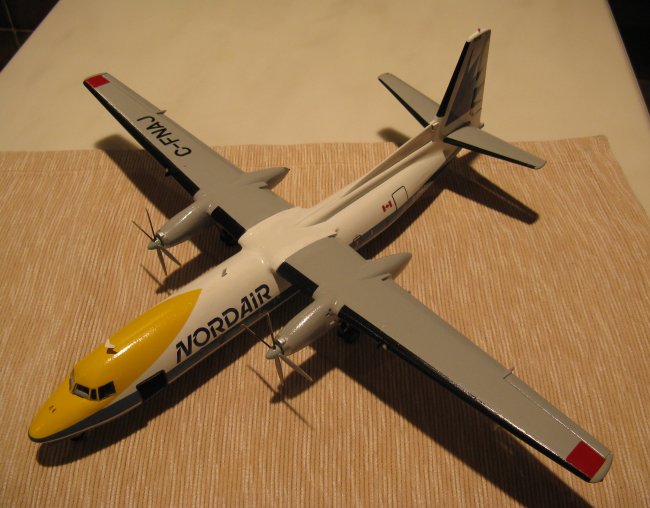 The model represents CF-NAJ, also known as The Chibougamau Cannonball, in the sunburst colour scheme, the last Nordair paint job. NAJ was the only one of the four 227's operated by ND that did not have the large cargo door on the left side. Its final disposition of was to Malmo Air Service in Sweden where it was finally retired, and today lives on in beer cans all over Europe. J-Bot worked his usual magic with the decals.
James Court