The Alouette III was the work horse of the SAAF in the Border War and served in several roles. They were predominantly used to insert sticks of infantry or paratroops during follow up operations once insurgent groups were located. The troop carriers were then supported by the Alo gunships when firefights ensued, often pinning down the insurgents and allowing the infantry to close on their positions for the final engagement. At first, the gunships used quad MG mountings similar to those used by the Rhodesian AF, but the SAAF changed these to single 20mm canon since they proved more effective in a fire fight. An interesting fact is that the SAAF never had "permanent" gunships - the Alouettes were converted on an as-required basis, removing the seats, fitting the guns and additional armor plating to the floor as the flights were deployed to the operational area. The troops affectionately referred to them as "draadkarre" or "wire framed cars", due the vast amount of glazing.

This model is from Heller, modified to the gunship configuration and depicts a machine from 17 Squadron South African Air Force. The plane represents one from the late seventies. As the conflict progressed, dust filters were added to the air intakes to prolong engine life in the dusty African conditions and still later, the engine exhausts acquired a shroud to protect against infrared guided missiles.

I had to modify the glazing to depict the removed port door configuration and scratch-built the 20mm gun and flight engineer/gunner position, based upon available photographs. The clear parts were a challenge to fit, especially when I had modified them to depict the removed door. Next time around, I will mask the clear parts before I start working on them. As always, I used Tamiya paints and MAV decals.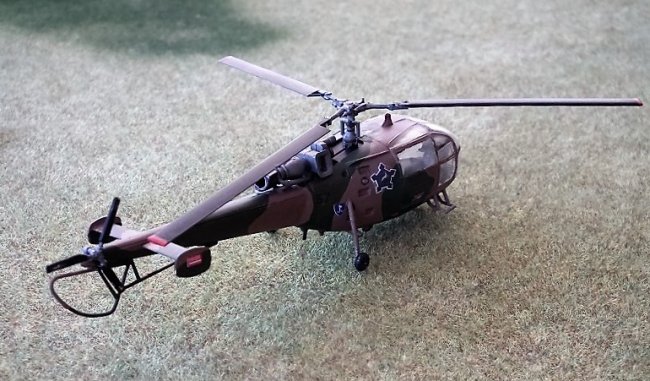 It took me a long time to muster the courage to post this one to ARC, since it is not the greatest effort on my side. I made a real hash of the glazing. I suppose I can claim this Alo is in a "just returned from a mission" state, still suffering from the effects of the Angolan dust. I bought another one of these kits and will build it one day in the same configuration, hopefully improving on the mistakes I made and adding the filters and IR shroud.
Dirk Schenk