Up for your viewing pleasure is a 1/144 Super Guppy by Revell. In the early 1960's, NASA was needing a faster way to move the Saturn V upper stages from California to Florida. Seeing a possible solution, a surplus C-97 was chosen and modifed. The upper cabin area was enlarged to 25' in diameter to allow the Saturn V stage III to fit inside. After the Apollo program ended the Super Guppy was sold to Airbus in Europe to ferry plane sub assemblies. The Super Guppy came home in the mid-90's to again work for NASA. This time, carrying assemblies for the ISS.

Let's go back... back 10 years to 2006. Yes, that's when I started this kit. There was a show on the telly (Discovery Channel, I think), about... something. I don't remember what, but the show had a lot of the Super Guppy in it. My wife looked at me and said "That's a cool plane, you should build one for me". Well, I'm not about to let that one go. The next day or so I got on ebay and found me a kit. I got started on it and before too long it was time to paint it. I primed the whole thing, thinking that would do the white part. Next came the silver. I used Model Master aluminum metalizer. The last step was the blue stripe. Well, that went sooooo bad. So bad, in fact, I put the kit away... far far away. There were blue runs at most of the panel lines and the tail was a disaster. That's also about the time I started doing commission work. Every so often I would pull the Super Guppy out and sand a bit, or touch up an area. I even went so far as to re-paint the silver. Then a few years later, the blue stripe. I finally decided to devote my full attention and finish. After a good washing to get rid of the dust build-up, I sized it up. I was close too, by now just a bit of touch-up was needed. I decided to hand paint the engine nacelles and re-prime the tail. After that, a good gloss coat for the decals.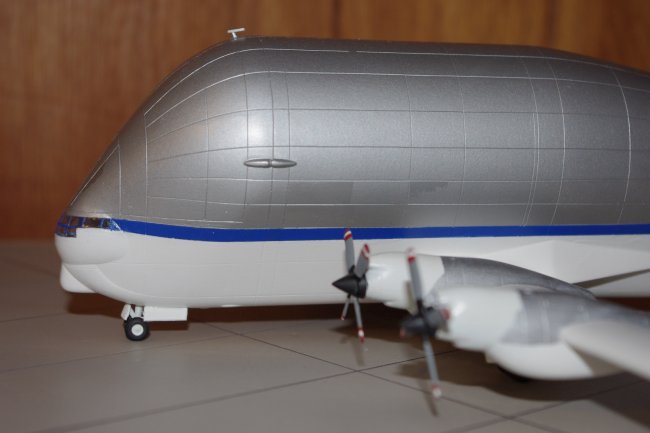 I had purchased a set of NASA decals from Cutting Edge many moons ago just for this plane. The set has several sizes of the "swoosh" decal that's on the tail. I picked the one that looked about right and got them applied. I next turned to the props. No issues there, just many coats of different colors. A few days on the undercarriage and I was ready to tie it all together. I then discovered how much of a tail dragger this thing was. The only bad thing... all the weight was going to have to go in through the windshield. I smooshed several fishing weights and after about 10, it sat on its front gear. I squeezed in a bunch of Elmer's glue and hoped the glue would find its way to the bottom. I attached the windshield and viola! I gave it to my wife (who had long given up on me finishing) and it now sits in the center of the china hutch. She is quite pleased to finally have her very own Super Guppy.

That seems to be it, hope you all like it.

Please email me if you've got any questions or comments.
Thanks for looking and don't throw rotten tomatoes!
Douglas Conrady