US Navy EKA-3B Skywarrior, Trumpeter-02872
First we need to thank Trumpeter for releasing the Skywarrior in quarter scale. These kits are huge and with the content given they really offer a lot for the price. Also Trumpeter did not stop with just one version, bringing all major sub models of this important type. Great job!

There are more than 500 parts included, and considering that this is not a fighter with half of the parts being alternate weapons, most of the parts have to be used. The detail is good and also the fit. The fuselage is slide molded so there is detail from all sides (start sanding away the seam). There is a lot of interior, in one piece from the main gear to the radar and 2 complete engines. Very detailed landing gear. All rudders, flaps, slats are separate, as are the bomb bay doors, engine doors, some spoiler and the entry door. The wings and the vert.stab. can be built fold or straight (remember that the rudders and slats fall 'upward' in the folded position).

Now where are the 'buts'? The canopy cannot be displayed open, it is one piece. Also it has some flaws in comparison to the real aircraft. And so have a lot of details. What makes the kit even more exhausting is the fact that in many cases there are no joints or attachments to fit the parts together or to hold them. There has to be a lot of finding a solution and scratch building this.

Tips from the author: The EKA was a remanufactured KA, it did not have a cabin as shown in the kit, all ECM control was done from the cockpit. So the tanks and bay interior provided scratch built by the author are pure fantasy. The radar bulkhead does not fit. Try to glue the main gear bays 1st to the fuselage, 2nd to the bulkhead. The 2 wire antennas made of fishing line have been loaded by springs, located above the bomb bay. The compressor fans of the engines have to be turned 30 degrees to hide behind the intake struts (see pictures). The large Eduard interior detail was used here, another 150 parts or so, also the extra seat belts. Try to get any 3rd market improvement you can get!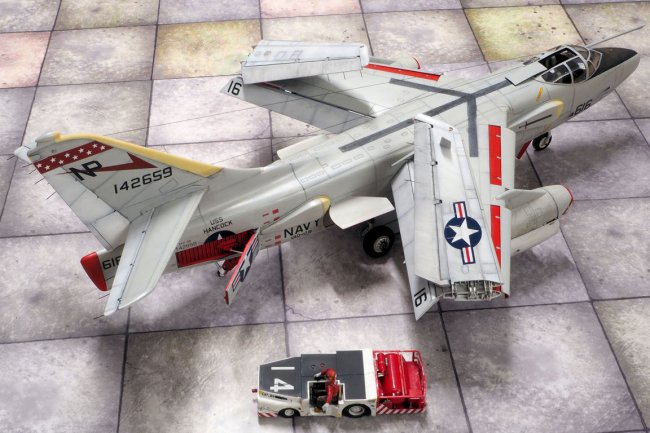 Now what could Trumpeter do better? A help would be if the shots of the engines and gear would be in white styrene because these parts are very difficult to paint/spray. With only one decal option given, this important type of aircraft is under represented. Especially the tankers had very colorful liveries to help them find in the skies over the lonesome ocean.

Thank You and have fun!
Andreas Gordes, ARC member 'Goggo'