As a 1st time poster, I thought I'd share this USN F-4J Phantom of VF-84 'Jolly Rogers' with you.

This is the ESCI 1/48 F-4B/J Navy Phantom kit from the 80/90's (No.4043), as most of us know there are major differences between a B and J model, therefore the kit resembles more like a J. Starting with the cockpit, well you just put this straight into the garbage bin and purchase an aftermarket one. I used the Aries resin one for the Hasegawa F-4J complete with photo etch (4160). As with most aftermarket resin tub's there is some work required to fit, I had to drastically cut down the kit front U/C bay to allow it to fit in.

The model goes together quite well with just a little filler required.

The Exhausts were from a Hasegawa kit enhanced with Eduard photo etch set ED 48462. Minimal detail was added to the U/C bays, as I tend to display my model's upright sitting on their wheels.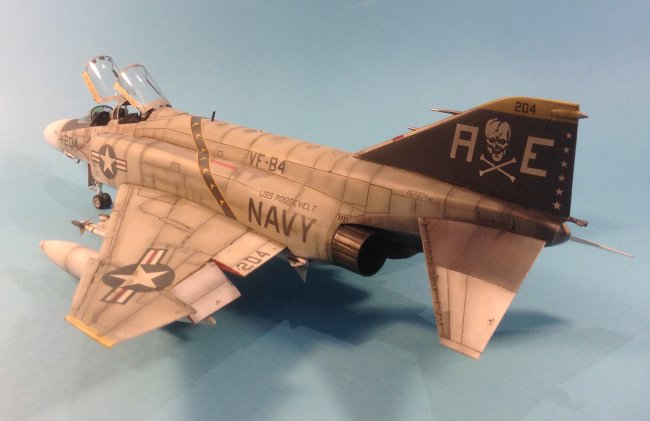 The Decals are from Vagabond (48-1001 Yankee Air Pirates), and were applied with 'Klear', this set is good because they give you 2 different versions for the 1/48 and include a set for the 1/72 as well, so this one now is displayed with a baby brother under it's wing on my shelf.

The model was primed in white (as normal for me), then pre-shaded before painting with Xtracrylix (I nearly always use these, as Hannant's is my local model shop), 'Klear'd, oil wash, then final coat of Tamiya matt & Klear. Metal areas are a combination of Alclad and Humbrol, I use the transparent colours to achieve the metal heated effect.

I do like my Jet's to appear as if they have had a hard tour.

Conclusion.
I particularly like the fine engraved panel lines of this kit. I have built quite a few of these now in different liveries and have a fondness for them as they can be picked up online very cheaply.
Rocket 500