Christen Eagle II Aerobatic biplane
After I flew with my good friend Manuel in his Christen Eagle II, I decided to build 2 models of it.
Here you can see the some scenes from the flight. As you can see it´s a lot of fun:
https://www.youtube.com/watch?v=7KxdCkH1WjE

I´m happy about the aerobatic planes Amodel is offering. To give the models the right painting, I had to draw and print the the decals by my own. Therefore I used foil from ACT. The model for Manuel is shown in flight, so I made a rotating propeller out of transparent plastic, added a pilot figure, made out of a figure from Preiser in 1:87 and added the display. The kit includes only a 2-bladed propeller, but the original has a 3-bladed one. So I built a 3-bladed prop out of the two propellers from the kit for my Christen Eagle on the ground.
The models were painted by brush. The decals were attached before the upper wings were fitted. All the details were built from scratch (antennas, visors, wires).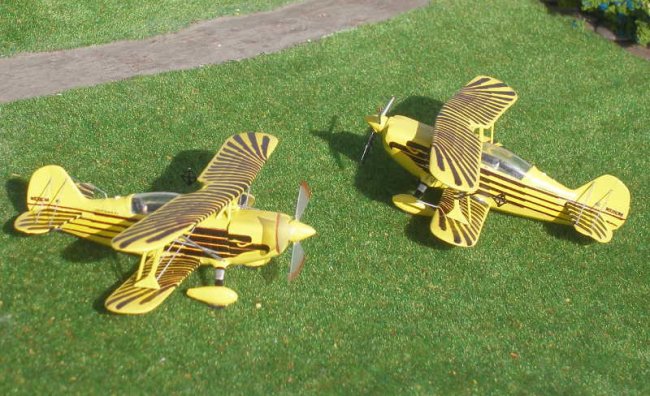 I can recommend the kit only to experienced modellers. Some of the small parts have a lot of burr, so it was easier to build them from scratch.

I´m happy about the result, the models will remind us on a cool flight we had!

Greetings
Thomas Brückelt