Bird models offers this version of the planned ramjet-fighter P.13a as a simple resin kit. It can be found on ebay under the name "Lippisch P.13a Entwurf 1".
Compared to the better known design of the P.13a with the cylindric intake in this early concept it has a different intake and a longer canopy.
There exists only a sketch of this version of the P.13a, no views. It can be seen that it has no rocket engine in the vertical stabilizer, so I added four rockets to the trolley, which is included in the kit, to accelerate it for take off.

The vertical stabilizer begins above the nose, so I had to make it longer by gluing a piece of plastic on the lower side of the vertical stabilizer. I had to move the cockpit 8 mm forward and make a new canopy by myself. I added a pilot figure and some more details to the cockpit.
The intake was also modified, so that it looks closer to the drawing which can be found in the internet.
I further added the gun barrels and the antenna. I painted the model with a brush and used some decals which were left from other kits. In the end I sprayed clear varnish over the P.13a and the trolley.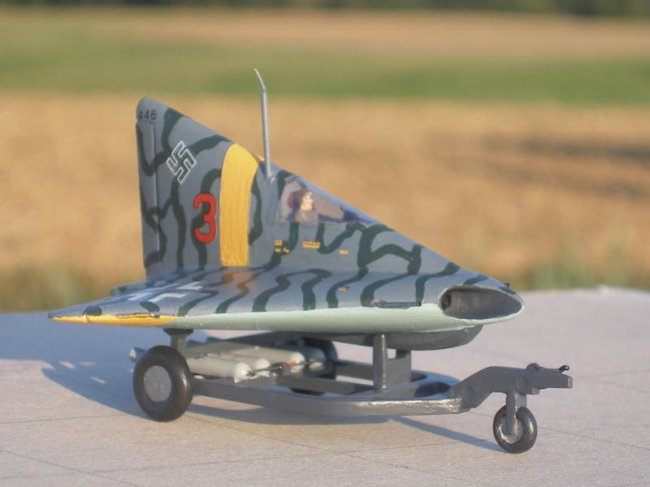 I enjoyed making this model. It's unique shape gives an enrichment to my collection.

Greetings from Germany.
Thomas Brückelt