This Reaper is configured as Multi-purpose strategic support and interdiction UAS. Host usage is: United Nations peacekeeping ops, operated by Swedish Armed Forces. Operational codename for this UAS is: "Tiger-Tiger".

Searching for different Reaper variants used around the world, (only variants found were several governments, armed forces, US coast guard and border control, civilian surveillance, and NASA). Trying something different here: Reaper as part of a dedicated fleet of armed UAS specifically for the use of United Nations Peacekeeping Operations. So my take on this is a "Chapter VII" style configuration. This UN armed drone will be used for intervention in low-intensity conflict zones. Paint is all hand-brush painting.

Weapons & additions
Ordnance is 4x Hellfire missiles and 2x Paveway II bombs. In addition, at the rear underbelly is my attempt at an ECM pod (scratch-built with sprues). My thought on this is that UAS should be able to cruise-follow the UN ground troops as they go on operation, and therefore the ECM pod would be to provide a permanent cover of sorts in terms of radio jamming capability against radio or remote activated mines/IED, at least during a few hours of the operation. (see photo 2 & 6).

Chin-mounted FLIR turret.
The FLIR turret housing is not glued on, but I made it tight enough that it allows me to turn the turret 360 degrees as I wish. (see photo 3).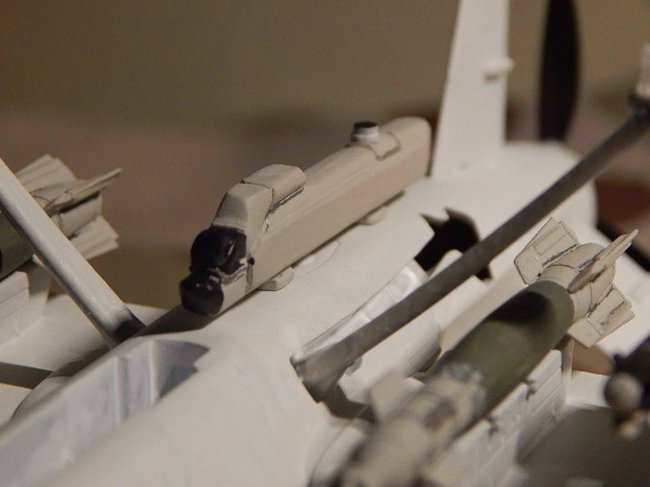 Photo 2
Turbo-prop engine & prop
Entire Prop has been reversed for authenticity of thrust direction and rotates freely. To do this, I have reversed the prop, and have cut and glued the pin so that it fits the prop housing as it would before. But due to reversal, the prop rotation direction is now clockwise (which is not authentic, because the real Reaper prop rotation is counter-clock). (see photo 4).
P.B.