For some time, I have wanted to do a model of this aircraft, since I first saw it at Lowery Park, in Tampa Florida USA in 1970. I later had a chance to take some very poor walk-around photos when the plane had been moved to Clearwater, Florida, sometime in the 90's. I always intended to go back and take better photos, but for us modelers, tomorrow never came.
They elected to make the last surviving P2V-3 variant into an artificial reef! Years later, I am sill outraged.

That being said, I waited for years for someone better than I do do at least a conversion kit or something. Well, they didn't, so I finally did.

I began with the old, trusty 1/72 scale Hasegawa P2V-7 Neptune kit, the Pavla P2V cockpit set and the Falcon P2V-5 conversion set (although the latter was only used as a basis for some quick bases to create new resin masts for some parts. I did not actually use ANY of the Falcon parts in the final build). To see how the parts were made and used, you'll have to refer to the build article over on Britmodeler.com, as there are more than 100 photos involved, and they can be a little larger than would fit well here.
http://www.britmodeller.com/forums/index.php?/topic/234994346-lockheed-p2v-3-neptune-a-forgotten-warrior/
There are also detailed instructions at every step, plainly showing how you can also create this forgotten warrior. Would you believe this twin-engine plane was BIGGER than a B-24? I'm pretty certain it was also the largest plane ever to fly night-time road interdiction missions (at least until the C-130s came along). These missions may actually still BE classified, but I am not sure.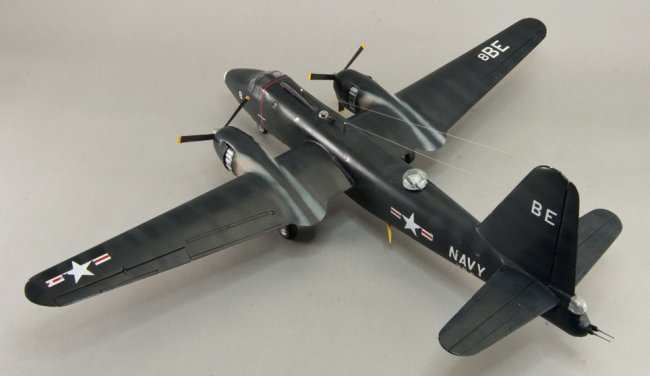 This build took about seven months, and was aided by information supplied by a lot of people. The only original parts still on the model are the horizontal tail surface, the two large fuel dumps, and the main landing gear wheels and tires. EVERYTHING else has been modified or replaced by a new part I hope that you enjoy seeing this seldom-mentioned Korean War veteran. As far as a pretty exhaustive search has turned up, I believe that this might be the only plastic or resin P2V-3 model ever made; I'm pretty sure that Lockheed made some models of it, probably from wood or metal, however.
I hope that you all enjoy seeing this warrior, as much as I enjoyed crating her, and by all means, try one yourselves!
TheRealMrEd