For your viewing pleasure, here is my article and some photos of my 1/72 scale F-15E Strike Eagle.

The F-15E Strike Eagle is an American all-weather multi-role strike fighter derived from the F-15 Eagle. The Strike Eagle was designed in the 1980s for long-range, high speed interdiction without relying on escort or electronic-warfare aircraft. F-15Es are distinguished from other U.S. Eagle variants by a darker color and conformal fuel tanks mounted along the engine intakes. The Strike Eagle has been deployed to Iraq, Afghanistan, and Libya, among others. During these operations the F-15E has carried out deep strikes against high-value targets, combat air patrols, and provided close air support for coalition troops.

Construction
This was an out of the box build. The kit went together fairly well following the building instructions. Assembly illustrations were pretty clear and the parts fit was pretty good. But, this was not a shake and bake build. There was a fair amount of seam filling and sanding and there were some fit issues. The bombs and air-to-air missiles are from Hasegawa 1/72 scale Aircraft Weapons kits.

Painting
Painting the F-15E was a fairly simple affair. The model and external fuel tanks were airbrushed with MM Gunship Gray. The landing gear and wheel bays were painted with MM Flat White. Exhaust cans were painted with MM Burnt Iron, and the engine areas painted with Floquil Bright Aluminum. The bombs were painted with MM Olive Drab and the missile bodies were painted with MM Light Ghost Gray.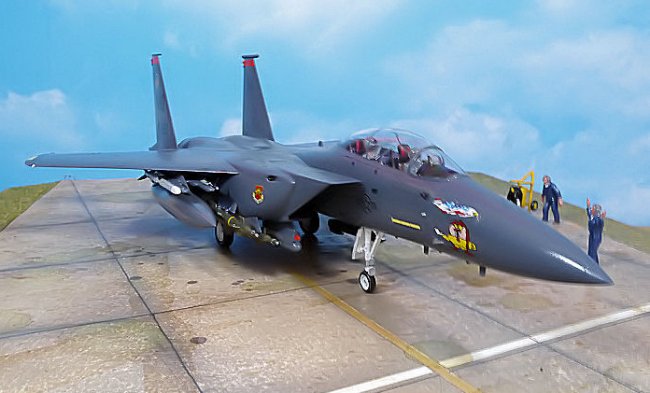 Decals
Decals for the aircraft and the weapons were excellent, easily placed on the model and weapons.

Comment
With excellent detail, a reasonably good fit, and good decals, The 1/72 scale Hasegawa F-15E Strike Eagle is very buildable ― an impressive finished model.
Burt Gustafson