Construction
Once equipped with the 32515 Placards set of Eduard, I started the build from the cockpit. Here the focus was on the construction of the wooden floor which was constructed from a wood adhesive tape. I added some details in the cockpit area and some wiring in the area behind the pilot's seat, where the bulky aircraft radio stands. I continued to strengthen the engine Packard V-1650 provided in the kit, adding where necessary wiring, piping and details. Interventions have also been made in machine guns, ammunition box, landing gears, pilot seat, radio, sight, cowling rails. The typical antenna type F boomerang shape on the back of the fuselage, was easier than laminate. The flaps are given incomplete, as intended for release up. So I had to add plastic to the perfect length, since we wanted to present them lowered, while metal adhesive tape used for the representation of the unpainted surfaces. Riddle turned to place the visor in place, which I managed with the help of epoxy putty Milliput very grating, and patience.

Painting, Marks,The end
The particular variant Desert Lifecolor painted with colors, after having sprayed the primer No. 1 Humbrol. The codes are as follows : UA 091 Dark Green, UA 412 Extra Dark Brown, UA 401 Tropical Tan, UA 060 Green, and UA 021 Light Grey on the lower part of the aircraft. The new type of fuel tank, metal rails engine, landing gear and tire rims stained with the ALC-106 White Aluminium of ALCLAD. Inside the cockpit and nests landing gear stained with UA 042 Chrome Yellow Lifecolor. Also used in the X-1 Black of Tamiya, for areas where technicians walk.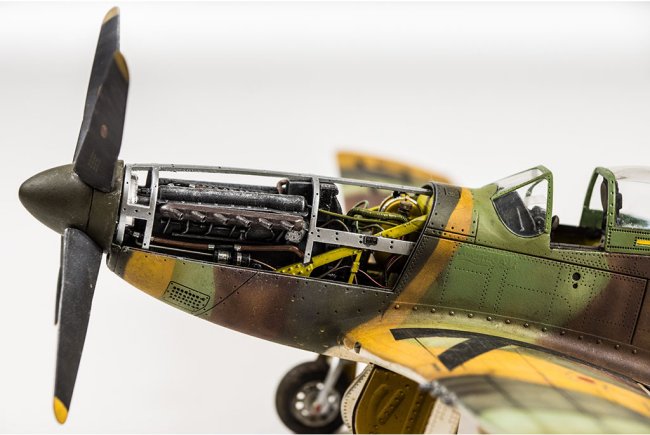 The decals printed by us in Clear Decal Film, using an inkjet printer. Finally the model was sprayed with XF 86 Flat Clear matt varnish of Tamiya. Followed wash with Raw Umber of Winsor Newton. The beautiful kit tires were soiled with MIG Pigments.
I hope you like it!
Christos Papadopoulos
Click on images below to see larger images