Piper PA-18. L-18
Make: Airmodel Kit No 84
Scale: 1/72
Type: vac-form kit, scale plans provided, no decals 

History
The PA-18, L-18 was an enlarged 2-3-seat version of the famous L-4 tandem seat aircraft. The PA-18 emerged in 1949 and was a private aircraft. It soon appeared in countless liveries giving the modelers a scope for a wide range of color schemes both in civilian as well as military service. In military service with Belgian, Dutch, Israeli, US forces and other services it was used as a liaison, general purpose, spotting and as a hack aircraft.
The kit
The kit comes in a sealed polythene bag consisting of a sheet of white styrene containing the kit parts. The backing surplus sheet was to serve to work out from it items such as the cockpit floor, seats and instrument panel, undercarriage fairings. I was immediately attracted by the bright orange livery of a German Air Force L-18, which also had day glow red/orange wing tips and nose areas. As no decals came with the kit I had to fix a set from my spares box. The Piper Pa-18 was a type that saw widespread use after World War II. This in fact was the first kit of the L-18 that was released a number of years ago.
A vac-form kit in white styrene and is complete with a clear vac-form canopy. The two page instructions contain scale plans for both the Cub and the later version Super Cub with the principal outside difference between the two being basically the shape of the clear canopy at the rear.

Construction
I cut the kit parts first and this was followed by careful sanding down. The interior was then constructed out of the backing card and forming two front seats and a large seat at the back. I then added the instrument panel and fitted out the coaming. This required some trimming to fit all on the inside. The wing parts were all prepared and cut in the same manner. The cockpit transparency is clear but is on the thick side in section and therefore needed careful cutting and trimming for best fit. Some extra work was made to the cockpit interior, which included reinforcement wire structure, added a doorstep also from metal wire; hold down handles to both sides, antenna and the engine exhaust pipe. Wing lights were added and a tail wheel fitted.

A propeller is provided but I preferred to replace it with a metal one. This came from the Aero Club range of accessories. The wings were trimmed and fixed to the roof of the canopy. The wing struts were cut to size from plastic card after their lengths were measured from the drawings provided in the instruction sheet. Wheels and engine front diaphragm all fixed in place.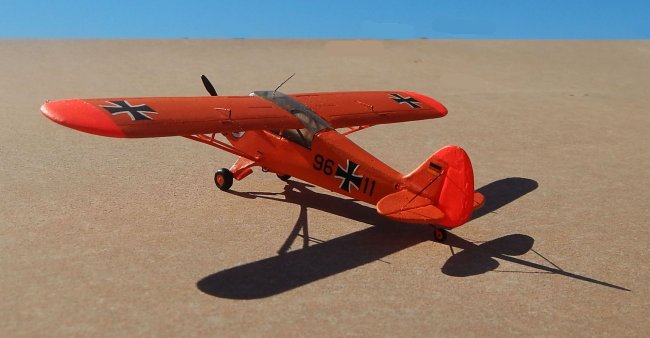 Color and markings
In service the L-18 appeared in a variety of paint schemes. This ranged from overall aluminium, overall international orange, white with red wing areas, orange-yellow, olive drab top and neutral gray under surfaces and in camouflage dual colours usually dark green and dark earth, which was a scheme that was at one time used by several Nato countries which had the type in service. The instruction also depicts plan views for a green and tan L-18 that was in service with the Royal Netherlands Air Force.

The kit is completed as Piper L-18C in markings that represent the type as used by the Luftwaffe reconnaissance squadron Jabo JG 51 where it was used as a utility aircraft. The aircraft had cockpit green interior and had an overall orange finish with areas on fuselage and wings covered in day-glow red/orange. The squadron insignia consisted of a white disc with an orange owl motif.

Conclusion
This makes up into a small model and with all detail added makes up into a pleasing single engine type. This may require some experience to make but in the end the extra effort required gives satisfaction and is another type added to my Luftwaffe section.

Carmel J. Attard
Click on images below to see larger images