Here you have the exotic HESA Saeqeh from the Islamic Republic of Iran Air Force (IRIAF), basically it's an F-5E with twin tails and improved avionics, currently in active service in training, CAS, ground attack and point defence fighter missions.

The Base kit it's the well known Italeri F-5E in 1/72, the main change the model suffered was the change to the twin tail configuration. I used plastic card sheets to make the 2 tails, which are the same size as the original one, the seat was replaced with a metal seat resembling the Martin Baker IRQ7A. The paints used were all Model Master, in particular I used a mix of British Armor Sand with Radome Tan and Sand for the yellow sand, green used was Medium Field Green, the brown used was Brown Special, and for the underside I used Camouflage Gray.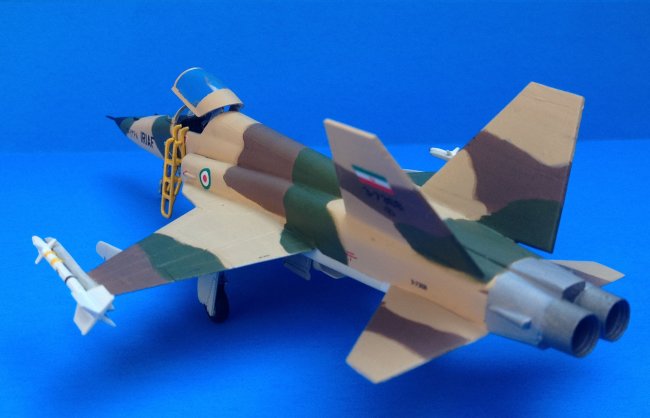 The main weapons Are AIM-9P Sidewinders taken from the Hasegawa F-20, and the boarding ladder that came from the F-20 kit as well. This model is part of my personal IRIAF collection that it's starting to grow!
Edwin Alvarado